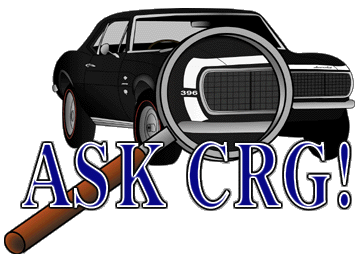 ©1998-2014, Camaro Research Group
Edited by Rich Fields
Version: Wednesday, 04-Jun-2014 20:32:37 EDT

The following are the published ASK CRG! responses, in reverse order, from 1999 thru 2000. The ASK CRG! column was discontinued at that time and questions directed to the
I have a 1967 SS-350 Camaro. It has a bench seat, fold-down rear seat, air conditioning, clock, no console, a column shifter (powerglide), speed-warning system and deluxe interior. I was thinking about tubbing the car but have been told by a friend that this may be a "very rare" SS-350 due to the little old lady equipment. My question is, have you seen many of the SS-350's with bench seats and should I indeed spare this one from the torch? I have only seen one other bench seat Camaro and it was not an SS-350. Your input is appreciated. Joe Barton, 10-Feb-2000

It is a rather rare set, although we've seen similar cars. We've got several in our database that are close in the sense that they also have bench set with a combination of other rather rare features, though not identical to yours. In our current database of several thousands VINs, we only have one SS350 with AL4 seat and PowerGlide - it also has C60 air conditioning and A31 power windows (and other more common options). The closest we have to yours is one L30 engined car with AL4/M35 that is hugely optioned - it has all your options and more, except for not being an SS car. Keep in mind that rareness is not always desirableness (it doesn't necessarily translate to increased value). However, this is an interesting combination of equipment that I personally would not like to see disappear. However, it is totally your call.

---

I'm restoring a 1969 sport coupe for my wife and she wants a luggage rack on the rear deck. I found a 1969 in a piece of Chevrolet sales literature which showed a sport coupe with a luggage rack, but I have never seen one listed in an options list. I ordered a used one from a camaro parts distributor who said that it was taken from a 1969 model. I'm not so sure of this since two of the mounting posts don't seem to fit too well. Were 1969 sport coupes ever equipped with luggage racks? Thanks. Don Craig, 7-Feb-2000

The luggage rack was not a factory option; it was a dealer accessory option. The deck lids were the same profile for all three years, so a luggage rack from any of the 67-69 years should fit (as well as can be expected). I've not actually seen one, so I don't know how well they actually fit, and I'm not sure how to confirm that the one you have is genuine.

---

I am restoring a 1969 Z10 Indy Pace coupe, and am trying to determine the axle ratio on my car. The axle assembly number is BM0424G1. I believe this axle was assembled April 24th on the first shift, non positrac. Does "BM" indicate the axle ratio? If so, do you know what it is? Thanks, Kris Kris Botkin, 6-Feb-2000

BM does indicate the axle ratio and other details, and in 1969 indicates a 3.31 12-bolt non-posi.

---

Could you give me the numbers on the Quadra-Jets used on the 1969 Camaros, small block and big block? I have a SS-350 and a carb with numbers 7028210. Thanx. Tom Brinegar, 4-Feb-2000

There are too many carbs to list quickly - suggest you get, or refer to, Colvin's CBTN if you want a list of all of them. The 7028210 carb was used on 1968 L35 (396/325HP) automatic transmission. The 1969 SS350 engine used 7029202 for automatic and 7029203 for standard transmission.

---

I am considering the purchase of a 1969 SS/RS, L34, 4 spd, Daytona Yellow. Owner claims car has not been repainted. It has flat black rear panel, but car has no front-end striping. Could a SS car come without striping? Could it be deleted in the order? Is there a base striping package that it would come with if no special provisions were made? Don Polson, 28-Jan-2000

SS cars came, by default, with a stripe. The SS stripe could be deleted via special order, but the cowl tag would probably show special order paint. The base SS stripe in 1969 was the "hockey stick". And the SS Pace Car Replicas (Z11, Z10) had the Z28-type rally stripe.

---

You replied to a question last July about steel wheels/small hubcaps for a 1969 Camaro. You responded with info on the wheels but did not mention anything about the small hubcaps. Do you have info on the small hubcaps? I am interested in using these instead of the regular full wheel hubcaps that came on my "plain jane" sport coupe. Also, will the small hubcaps work on the steel wheels that use the full wheel caps? Thanks. Don Craig, 28-Jan-2000

The "dog-dish" hubcaps were standard on all models in 1969 except Z28 and pace car. However, it was so common to substitute a rally wheel or SS wheel, or a full-wheel cover, that the hubcaps weren't as common as you might think. Yes - the hubcaps fit on the same base wheels.

---

Was the rear mount manual antenna and passenger side grab handle (on the dash) an available option on all 1969 Camaros or just on certain models? Thank you. Dave, 28-Jan-2000

The U73 rear antenna was available on any model except those with AM/FM and those with the D80 spoiler option. The passenger assist grip was a feature of the Z87 custom interior and Z23 deluxe interior options, available on any model.

---

I have a 1969 Camaro that originally did not have the console gauges. I've added those. I now need to know how to wire in the ammeter and fuel gauge. Is there a resistance wire to tap across? Gary Stephens, 28-Jan-2000

Bill Glowacki says: "There is an aftermarket adapter harness that works great. I used one on my last project."

---

I have a 69 with what appears to be R302 for the exterior cowl tag code. All the exterior trim has been removed. I have been told the original motor was a 327. It is an automatic and A/C car. Is this just a base model? Here is the cowl tag transcription. Thanks.


ST 69 12437  VN251764
TR 716       51E
1D           R302
VIN 124379L519382


Patrick Holman, 28-Jan-2000

Impossible to tell which V8 is on this car from what you've told us. I can tell you that the R302 has absolutely nothing to do with it having a 302 engine - and it couldn't have had a 302 because a 302 wasn't available with either automatic or A/C. Rather, it is the Van Nuys Fisher Body scheduling code. This car is right after the mid-year transition point for two sets of engines: the 327 to 307 transition, and the 350/LM1 to 350/L65 transition. So if it isn't an SS-350, and we've already ruled out a Z28, and it isn't a big-block, then it might be either the 307 or the L65 engine depending on other details on the car. In follow-up, you say the car has a single fuel-line, multi-leaf springs, and a 10-bolt axle. From this (if the axle is original - and you decide that) my best guess is that the car had a L65 350ci 2-barrel carb engine. As far as the original exterior trim configuration, you're going to have to see what clues you have left on the car itself - to see if you can determine what that original might have been.

---

Hi!
I have a 1969 Camaro RS Sport Coupe, which my wife purchased new in May of 1969. I had a new Super Bee. :) Anyhow, I have had many people argue about the color of the vinyl roof on the Camaro. On the original window sticker it ha a the following:


5C08BM  Vinyl Roof Cover/Blue


The car came with a Medium Blue Vinyl Top and matched the Body Color of Glacier Blue. It was a factory installed vinyl top and has the halo moulding around the top. The original top has since been replaced and was quite difficult to match. Any help on finding verification of this info would be helpful. I will gladly provide a copy of the original window sticker if you so desire. Thanks, Joe Joe Spinsky, 28-Jan-2000

We don't have any good detailed information from an original 1969 car with a blue vinyl roof. We have several in our database, but without good docs or originality. These are all "C" roofed cars, which should be the more conventional dark blue vinyl roof. Follow-up shows that the top is truly a medium blue rather than the dark blue shown in the dealer manual. We can't help you further, but if this rings a bell with other readers we'd like to know more about original blue vinyl tops from 1969.

---

What crank and block combo did the 1967 Camaro SS350 use, large journal or small? Being that the SS350 was an early model year option, I wouldn't expect to see a large journal crank/block engine that was introduced in 1968 placed in an early 1967 car. Seems that all parts lists I've looked through say the SS350 used a 302/327 block (which is small journal). Was there some special crank for this block to make 350 cubic inches? Barry Kachmaryk, 28-Jan-2000

The 350 engine always used the large journal crank. The 1967 Camaro was the first application for it, and the only one in 1967. In 1968 the rest of the small-blocks converted to the large journal (including 302/327). The 1967 350 blocks were the same castings as used on most other small-blocks, but were machined differently. The 350 crank had a longer throw of 3.48 inches, compared to 3.25 for the 327. These engines (327 L30 and 350 L48) were otherwise essentially identical except for the crank. The longer stroke of the 350 crank was what produced the increase in displacement over the 327.

---

(1) Approximately how long did it take a Camaro to be built once the factory received an order from the dealer?
(2) In regards to the assembly of 69 Camaros (specifically Z28's). There were four price increases from the factory during the production run (yes?). If I had ordered a Z car in late Dec. 68 w/an RPO price at that time of $458.15, but my car was not assembled until early February of 69 and on Jan. 2 1969 there was a price increase for the Z RPO to $473.95, would my car be automatically upgraded to the newer version (I would think not)? Also, had my car been ordered w/the earliest Z version, would chambered exhaust still have been installed in early Feb. (because it was part of the version I ordered), even though at the time of assembly the chambered system was no longer standard equipment?
(3) Were Z28's ever produced at random for dealer stock or were they all special ordered? And, lastly,
(4) was posi traction ever made mandatory to order Z28 option? Ed Ernst, 27-Jan-2000

Good questions. This stimulated some group discussion, and here is a joint response edited from the comments of the group, but especially using Bill Glowacki's input. 1) Depends on when the car was ordered. Just as is true today, at that time there was a huge variance in that answer and no standard response. Order volume, production capacity, holiday scheduling and component inventory all play a major role in this scheduling. Z28 production was often limited by one of the components unique to it, possibly the intake manifold. As more capacity came on line due to demand, cars were built faster. Bill notes that a given dealership ordered two 1969 Z28s late in Oct 1968. Both shipper copies are in JMs book on pgs 106 & 107. N584728 was ordered 10/19/68, built 01C, 10 weeks later. N603712 was ordered 10/22/68, built 02D, 16 weeks later. The cars were ordered 3 days apart, but built 4 weeks apart, and have confirmation numbers 36,000 apart. 2) Price is set at time of invoicing of the vehicle to the dealer, which happens when the vehicle is at the plant. As such, if you ordered a vehicle on the first day of ordering, but due to some restriction (such as part availability) your vehicle wasn't built until 6 months later, you were billed with the current pricing at time of invoice and the car was build with the standard options at that later date. If the order acknowledgment came back with a higher price than you were originally quoted, you could pay it, negotiate with the dealer, or walk. For example, chambered exhaust was definitely dropped, due to noise complaints, as standard equipment in Nov 68 per the CDSB. It remained optional until early May. The May letter states that any car ordered with chambered from then on would be built with production dual exhausts. If you ordered chambered exhaust (or thinking it was standard), but the build was delayed until after one of the changes, you got what they built whether you liked it or not. 3) The orders are never random. All orders are placed by the dealer - not by the zone or the factory. Certainly the zone does some heavy arm-twisting to help move slow-selling vehicles, and could limit availability of desirable models unless sluggards were also ordered. This was (and is still) arm-twisting, but the orders ultimately had to come from the dealer. The orders can be for stock purposes (on spec) or for a customer (the order forms asked for this info). Even in 1967, high-performance dealers may have ordered Z's for inventory. This was definitely done with 1968-69 Z's. Dealers ordered what they thought would sell - both model types and options on the models. Region also influenced that. Some northern dealers would order posi on a lot of cars (such as for snow traction). Conversely, Canadian cars didn't often include air conditioning. 4) G80 positraction was recommended for Z28, but not required. Bill Glowacki's last 1969 Z28 did not have it. But if you got a 4.10 or deeper ratio, the 4-series axles were automatically equipped with posi.

---

I have my VIN, block casting, pad stamp, and head numbers for my 1969 Camaro Z-28. I've been reading this site but still do not know how to find out if this is a car that the "numbers match". I never even thought of this when I purchased the car 15 years ago but now that I am thinking of selling it, this is the number one question.


VIN: 124379N644281
Casting: 3970010
Pad: V0506DZ
Heads: 2991492
ST69 12437 NOR328692 BDY
TR 711 10 10 PNT
O5A  X33


This car was also equipped with rear disc brakes but they were parted before I bought the car - is having the JL-8 cylinder anything? I would really appreciate any help and I hope that you could give me any additional info (what the car would be originally equipped with). Thanks. Shelley, 26-Jan-2000

Numbers matching means different things to different people, but to most it at least includes having the original engine. This can be determined by examining the casting number, casting date, application code and assembly date, and partial VIN. Your application code and assembly date match your VIN and body date, so this is a good sign. Look for as much other data as you can find. However, your heads are a part number that I'm not familiar with, so they may be replacements. The 1969 Visual ID table will tell you what the car, as a Z28, was generally equipped with, though options are a different story. It will be up to you to complete the options story by research. Your car is coded as a X33, which means it had either the Z21 exterior trim package, or the Z22 RallySport package (which essentially included Z21). See the X-codes explanation for more details. Yes - (gulp) if your car had original JL8 rear disc brakes, that would have been extremely desirable. Too bad they are gone. You can find out more info on your car from GM Canada, if your car was originally sold in Canada. See the General Info section (or other questions in this page) for more info on how to contact them.

---

Is there any info on a special edition O. J. Simpson 1969 SS 396? Tom Nicholson, 26-Jan-2000

O. J. was given such a car as you describe as an award. A photo of him standing by the car is printed in several historical Camaro books, including Lamm's Great Camaro.

---

In your General FAQ, you seem to say that the factory rear antenna (U73) did not apply to 1967 Camaros? I have a broadcast sheet from my 1967 Camaro showing that I have a rear antenna. Bob Leach, 18-Jan-2000

The FAQ says:

The rear antenna option, U73, was not available from the factory with either of the AM/FM radios (U69/U79) or the D80 spoiler.

(Follow-up found that the radio was an AM-only radio, with which a rear antenna was an acceptable option.)

---

What does CRG know about the taxable horsepower shown on the MSO? The taxable horsepower is calculated by taking the square of the engine's bore diameter, then multiplying by the number of cylinders, then dividing by 2.5. This number was listed on the Manufacturer's Statement of Origin (MSO) and was sent to the dealer to be submitted to the state when applying for the initial title. This is potentially a method to determine what size engine originally came in a car from the factory. A 307 is 48.0, 302, 327 and 350 were 51.2, 396 was 53.6, 402 was 54.5, and 427 and 454 was 57.8. This number was often carried over to the title and reprinted through successive owners. At least MO and IL listed it on the titles under the heading hp/ccm. This method of documenting the original size engine is not fool proof as I know of 1 1969 Z-28 and 2 454 LS-6 Chevelles that are listed as 48.0 (307) and a 1969 396 Camaro/Harrell 427 that is listed as 51.2 (350) on their MSO's. These are all FULLY factory documented, matching number cars still in the possession of the original owners, so there is no question the #'s on these particular MSO's are incorrect. To my knowledge very few people know ANYTHING about these numbers, but I figured CRG would be the best place to inquire. Perhaps a good future research project if you have not already sorted out this subject. Am most interested in your response. C. Biele, 24-Jan-2000

Here's a quick response. We've had this on our list of things to write about - but we've had too many other things going on to get to it. We should add this to our FAQs. What you've stated is close to all we know about it. It is a useful, but not foolproof, tool that can be an aid in research. There aren't many, if any, types of research documents that are error-free, so finding a few that have the wrong taxable horsepower values doesn't surprise us. This would indicate that it isn't a near-definitive parameter, and should be used with care as a guide. Here is a definition of Taxable Horsepower:

A technically obsolete formula defined by the old National Automobile Chamber of Commerce (now the American Automobile Manufacturer's Association) for comparing relative engine power. The formula incorrectly assumes that engines deliver their rated power at a piston speed of 1000 feet per minute at a mechanical efficiency of 75%. Historically used for vehicle taxing licenses, thus the common name. Taxable Horsepower is determined by squaring the engine bore diameter in inches, multiplying that by the number of cylinders, and dividing the result by 2.5.

See http://www.mogo.state.mo.us/statutes/C300-399/3010070.HTM for the Missouri statute that refers to taxable horsepower.

---

I have a 1969 convertible with the AK1 front seat belt option, which was removed at some point. Does anyone sell them, where do they attach in the back seat, and are they held in place near the shoulder with any type of clip or just loose? Thanks. Mitch, 22-Jan-2000

Actually AK1 wasn't available in 1969 (it was AS1 for standard and A85 for deluxe), but the details of the RPO number aren't important. Front shoulder belts in convertibles were optional (and rare). Replacement belts might be available from Snake Oyl (see the links page). I wasn't sure about the attach point, so I turned to Mark Canning, who says:

You remove the upper most forward anchor bolt that holds the folding top mechanism to the support structure behind the quarter window. If you have is a manual roof, it is the bolt right below the bottom edge of the latch that holds the roof in the down position. Remove the bolt pass the bolt through the hole in the seatbelt attachment plate and reinstall the bolt.

---

What are the Camaro Research Group findings on "PBT" stamps? Which cars really had them? What known locations have they been found ? Tom Bogan, 19-Jan-2000

This hasn't been a big research area for us, but we do know some basic info that should have been put on the site, and hasn't been. We'll eventually create a new FAQ based on this.



1) Chevrolet inspection stamps of Fisher Body work.  They
   stand for [P]aint, [B]ody, and [T]rim.
2) Used only at Norwood; have never been seen on an original
   Van Nuys car.
3) Stamp colors are orange or green.  Jerry MacNeish's
   research with a Norwood Quality Engineer, Larry Price,
   found that the two colors indicate different shifts,
   with orange believed to be the day shift.
4) Stamps located on the firewall, usually a set
   on either side.  Two common locations are under the
   fenders (and therefore not fully visible in the assembled
   state) or above the heater box/brake cylinder.
5) Stamp size was about 1 inch tall, in an uppercase serif
   font similar to what would today be called Times Roman.
6) Stamped in any orientation.



---

I have a question regarding the 1968 "Special Interior Group" option (RPO Z23). My 1968 Camaro was apparently equipped with this option. Some Chevrolet literature shows it included the "Instrument panel peripheral molding" I have looked my car over very carefully and it has all the other items described in the option group but I definitely didn't have the dash pad outline molding. I am certain I have the original dash pad as it is correctly date coded on the inside. There is no evidence of any holes where the molding would have attached. Was this molding included with the RPO Z23? Did the option group not include it on early cars? Were there running production changes on what RPO Z23 included? My car DOES have the early black ash tray that came on early cars with this option group. Tom Bogan, 19-Jan-2000

AFAWK, the molding was supposed to be included. We are not aware of any mid-year changes on this molding. We will keep our eyes open for this in the future, but it is entirely possible that your car just received the wrong dash pad at the factory.

---

I have a 1969 Z/28 (restored), which has the 302 engine with solid lifters. The engine has been overhauled and runs great. There seems to be a knocking sound (medium pitch) coming from the engine, in the vicinity of the fuel pump. I tend to agree with the sounds origin, and was told by a friend that this knocking was sometimes common in this engine, have you ever heard about this? If so, is there anything I can do about it? Ray Whitt, 16-Jan-2000

We turned to Jerry MacNeish to write this response:

It is most likely piston slap; engines with forged-aluminum pistons have more piston-to-cylinder wall clearance than the standard cast piston. If this noise tends to go away when the engine warms up, then this is certainly the problem. But it's not really a problem....just the personality of forged-aluminum pistons. Most race 302 engines run up to 0.010 or even 0.012 inch piston-to-cylinder-wall clearance. They make more HP this way, but you couldn't run a motor this loose on the street as it would beat the rings out of it in about 3000 miles. This would be for race cars only. Stock 302 piston to cylinder wall clearance would typically be in the 0.005-.007 inch range. I just finished a 302 engine for a friend in CA, his clearance was .008" ... should run great on the street!

---

I am trying to put a tilt wheel in my Camaro. I wanted to know what tilt wheels will fit in my car with little modification. Tony, 16-Jan-2000

Bill Glowacki writes this response:

If you have a 1967-1968, you need to find a 1967-1968 F-body tilt column. If you have a 1969 Camaro, later F-body columns (not sure what year this stops) can be made to work as they are the same length - but the column locking levers differ. Strangely enough a 1969 Firebird column is not a direct bolt in for 1969 Camaro; it uses a different ignition switch that must be changed.

---

I own a 1968 Camaro and I really like the 1967 doors with the vent windows. I was wondering if 1967 doors will fit my 1968. Thanks for the help. Paul, 11-Jan-2000

Your email bounced, so hopefully you will eventually look here. The lower hinges on a 1967 Camaro are cast, while the uppers are stamped steel - both attach to both body and door with 3 screws. In 1968, Camaro went to different stamped steel hinges top and bottom, both with four attach screws at both body and door ends, with the 4 holes in totally different locations than the 3 holes used in 1967. Applying a 1967 door to a 1968 body (or vice versa) would require reworking the hinge attach area somehow. Also, a door change would require a change to the roof rail weatherstrip.

---

You list the 255HP motor as a 4bbl, but according to my P.O.P. my engine code is HD, which, in every publication I've checked is a 255HP with a 2bbl. My carb code is B for bay city, so that's a 2bbl, and the previous owner had told me that he had taken the 2bbl off the car and had converted it to 4bbl Holley with an Edelbrock intake. My car is matching numbers, so far as the drivetrain is concerned. Also, did any 4bbl come with an enclosed air cleaner, not the open element? Richard Irons, 13-Jan-2000

The HD code is for a L65 350ci 250HP 2-barrel, not the 255HP 4-barrel LM1 motor. Two different motors, though close in advertised horsepower. Yes - all the small-blocks except the Z28 used single-snorkel closed-element air cleaners. Of these, the 67-68 L30 327/275HP motor, the early 69 LM1 350/255HP motor, and the L48 SS350 350/295HP motor, were all 4-barrel Q-jet carb engines.

---

I own a 1969 Z28/RS. I am currently replacing the weather stripping. I bought a kit from Year-One. I believe the manufacture was Soft Seal. Having only the passenger side window striping installed in the roof rail, the window, when rolled up all the way,does not make contact with the stripping. There is a 1/2 inch gap. I have already adjusted the window up all the way. Obviously it is pretty windy and noisy in the cockpit at 100MPH+. What gives? Thank you for your reply. Jerome C. Newell, 12-Jan-2000

We couldn't get a group consensus on the best weather stripping supplier - but all agreed that finding acceptable weather stripping is a problem. Soft Seal, in the past, has gotten a well-deserved bad rap for poorly fitting product, but has supposedly reformed for the better. Metro was, for a time better, but we still generally don't believe that Metro fully meets OEM requirements either. Current available material is smaller in size than OEM but harder, while OEM weather stripping was a soft latex rubber. Stanpro was the original manufacturer for the GM strips. Jerry says that to fix your problem, you're going to have to take the door all apart and readjust the window track stops!

---

Can you tell me how many 1967 Camaros were (MM) Royal Plum? I heard that is a very rare color. Thanks. Jim Guck, 21-Dec-1999

I know you don't have specific numbers on paint codes, however I've been told that the color Royal Plum on the 1967 Camaro is a rare color. Any help on this would be very helpful to me. Thanks for any help. Ray Scott, 8-Jan-2000

Interesting that we would get two similar questions at nearly the same time. So we're answering both together. Please note item number three at the top of the ASK CRG page. There are no official production numbers on colors - it wasn't tracked by Chevrolet in detail, in any available database of which we know. We know that color use was tracked at the division level, but the most popular color overall within Chevrolet was not necessarily the most popular within a specific model line. However, in keeping with the holiday spirit, here is a small gift to the numbers conscious from CRG. Below are the latest CRG color summaries for 1967, from CRG data to-date, presented as percentages of the total 1967 CRG database population. As a disclaimer, the current CRG database is not a uniform population - there are seasonal, model-type, and geographic biases in the current data; we would like to quadruple our current 1967 data population before beginning to believe these numbers below are quantitative. (And for that to happen, we need your vehicle data submissions at our research data page.) However, the relative proportions below are certainly interesting, and probably qualitative (reflecting relative trends). You can see that Bolero Red (R) and Butternut Yellow (Y) are the two big winners, with more than 17 and 13 percent of the population, respectively. There is only one clearly "rare" color, and that is Sierra Fawn (S) with less than 2 percent of the population. The "somewhat rare" colors, at 3-4 percent of the population each, include: Tuxedo Black (A) (surprisingly), Deepwater Blue (E), Mountain Green (H), Emerald Turquoise (H), Royal Plum (M), Madeira Maroon (N), and Capri Cream (T). The remaining colors all fall in a "middle-of-the-road" group at 5-10 percent of the population.



Color Name        Code    %
----------------- ---- ------
Tuxedo Black       A    3.025
Ermine White       C    9.647
Nantucket Blue     D    4.504
Deepwater Blue     E    4.269
Marina Blue        F    7.899
Grenada Gold       G    9.949
Mountain Green     H    2.689
Emerald Turquoise  K    3.597
Tahoe Turquoise    L    6.588
Royal Plum         M    3.126
Madeira Maroon     N    4.034
Bolero Red         R   17.479
Sierra Fawn        S    1.950
Capri Cream        T    3.664
Butternut Yellow   Y   13.345



Note that the database from which the above statistics are drawn is constantly increasing in size, so the actual numbers and proportions will continue to change until we get a sufficiently large population that the data proportions become relatively stable. Therefore the values above are immediately obsolete, and if you quote them, you do so at your own risk - the CRG will not stand behind them. Only when the database stabilizes will CRG begin publishing estimated production statistics on otherwise unavailable data such as colors.

---

I have been searching for lower bearings for a 1968 Camaro non-tilt steering column and have not been able to find any nor any reference to where I can find any. I would like to find a current part number or the original part number with the spec for the bearing to see if I can find a substitute. Thanks for any help you may give. Joe Sowa, 24-Dec-1999

An old parts book shows group 6.521 p/n # 7806142 "bearing, steering shaft lower, 67-68 all." Meaning tilt wheel not different. Probably long discontinued, but try Chevy Parts Obsolete or Chuck Voelker. Or just get a good used column. Another suggestion is to try removing the bearings and look at them. Almost all bearings are marked from the factory, and the numbers can be cross referenced with Timken, or others.

---

I have a butternut yellow 1967 RS. It has the optional 250 6-cyl, PowerGlide with column shift, buckets, black interior, and factory air conditioning. It was built in Norwood during the 2nd week of December, 1966. My question is that on my rear monoleaf springs there are small weights attached on each side in front of the axle. Are these factory installed? Or part of a suspension option? Steve Wareham, 02-Jan-2000

We're not aware of any factory "weights" attached to the springs, optional or otherwise.

---

I own what I believe to be a 1969 Camaro SS. I'm not sure if it's a real super sport or not, and I was wondering about the original engine size as well. The cowl tag and interior tag under the rear seat both have been removed. I only have the VIN Number. The VIN is 124379L518294. I was wondering if you knew of any site or person that would be able to give me the cowl tag- interior/exterior information based upon the VIN number, so I can search all the options that came on my car. The VIN number is the only thing I have to go with. Thanks for all your help. Richard Robbins, 02-Jan-2000

An SS was either a 350 or 396. Can't tell anything that specific from the VIN, except that it was a V8. However, there were many more non-SS V8s than SS-V8s. Your car was built in Van Nuys, so it wouldn't have had a tell-tale cowl tag code for SS anyway. If your engine is original the engine stamp code will help you. If not, you'll have to compare features using the Visual ID table. (By interior tag, we're assuming you're referring to the body broadcast copy sheet that was sometimes left under the rear seat (or in other places).)

---

What information can you tell me about a 1969 Camaro with VIN 124379N614529? The dealer is saying it's a true Z-28 Body with a 350 Chevy. It also has an automatic transmission. Thank you. Glenn Vaughan, 31-Dec-1999

(Unfortunately your email bounced, Glenn, so hopefully you'll read this here.) There is nothing useful to you that can be gleaned from the VIN other than it is a V8 coupe built in Norwood at a time when the cowl tag must have an X-code. The X-code will you tell if it is a Z28 or not. Get us an exact transcription of the cowl tag stamps and we'll check the numbers for consistency. As a note, the first-generation Z28 did not come with either the 350ci engine or an automatic transmission.

---

I own a 1969 350 SS/RS. When did the alternator switch from the driver's side to the passenger side in a mid-year model change? I'm trying to figure out why the car does not have a VIN on the engine pad and this site has confirmed that they did not stamp the VINs on the block because of this alternator location change. This car was assembled 04C; does this correlate with a lack of VIN on the engine pad? Second question, is it true that early 1969 Z28s came with chambered exhaust as a base option under the Z28 RPO? Kevin Elliott, 30-Dec-1999

The alternator mounting location was a 1969 change, not a 1969 mid-year change. The stamping of the partial VIN on the engine pad varied in 1969. Early 1969 cars were stamped on the pad. Both Norwood and Van Nuys then stopped the practice and moved the stamp to the oil filter area, but Van Nuys later returned to stamping the pad. We're still working on the details of when these stamping changes occurred. A 04C Norwood car would normally not be stamped on the pad. Yes, early Z28s had chambered exhaust included.

---

I have a 1969 RS/SS Camaro. I've decoded the cowl tag, all except one number - B123. This is exactly how it reads on the COWL tag:


ST 69 12437 VN235906 BDY
TR 712 72 72 PNT
2A     B123


Can you help with the decoding of B123? Dennis Coffey, 28-Dec-1999

This is the Los Angeles/Van Nuys Fisher Body scheduling code. It is a sequenced code that was used for production tracking, and can be used (when sufficient data is available) to help detect fake cowl tags, but has no other decoding significance.

---

How often (if ever) have you seen a protect-o-plate with slightly different information than is on the original car? I have a 67 big-block pace car replica that is very original, but, the POP states "QV" for rear end while my car is stamped "QU" with the same date. Also, the first location spot says "F" , not "R" for bright blue custom as is on the cowl tag (with 732-Z). Did we simply have a sloppy typer? P.S., the O-1 code for paint had been explained as probable festival, but now some say "no fleet code - no festival" what is your opinion? Thanks, Tim Tim Flatt, 27-Dec-1999

We've seen POP errors before, though multiple errors in a single POP are more rare. What the apparent errors do is focus attention on the rest of the numbers. Of course a U versus V is an easy error to make, either when stamping it or reading it, as is F versus R. The fleet code was not on every replica car. However, the dash code was. But, the dash code was also used on non-pace cars with special order stripes. Lack of a fleet code doesn't indicate that this isn't a pace car replica. The cowl tag (in data submitted) looks like a pacer tag.

---

I have a 1967 parts car with a small block and power steering and I just bought a 1968 big block without power steering. Can I put the power steering box and pump from the small block 1967 onto the 1968 big block? Or do I need a big block box and or a new pump? Also I have a Muncie #3857584 on the tail shaft how do I tell what it is? M-20 M-21 M-22? Chad Kucsan, 18-Dec-1999

We're pretty certain the pump and steering box are the same between L6 and all V8s for 1967-68. The hoses are different and the PS pump pulley is different. Of course the pump brackets are different. There are different steering arms and pitman arm for power steering, and a conversion would also need the crank pulley extension. The 1967 assembly manual has an exception page for power steering that shows what is different for big-block. Your Muncie ID questions are answered on the transmission FAQ page. This tailshaft was used in all types for several years and doesn't help pin the model down.

---

I recently acquired a 69 RS/SS and upon doing some homework, I noticed that some articles refer to Azure Turquoise (55) as a special order paint. How unique (if at all) was this option? Norm U, 18-Dec-1999

The 1969 color Azure Turquoise is not listed as a special order paint in any of our original GM documentation. Yes, some of the 1969 paints were listed as "S.O.", but this wasn't one of them. It isn't a common color, but we do have some examples of it (currently 19) in our vehicle database.

---

I have a 1967 Camaro SS. I am interested in rebuilding the manual steering box, do you have any information on this subject, or do you know where I can find it, also who would sell internal parts for this steering box? Thanks. William Billings, 12-Dec-1999

The chassis service and overhaul manuals have info on the steering boxes in them. The manuals are available in repro. Can't help on parts. Two contact suggestions are:


Power Steering Services
Chip Woyner 
Springfield, MO
417-864-6676
wwww.powersteering.com

or

Pro Steering Systems
Portland, OR
503-289-7899
www.prosteering.com


---

I have a 1967 Camaro. I have been trying to figure out what engine I have in it and its originality. The casting # is 3914678 and the date code is D 23 8. I know from these #'s that it is a 1968 block that could have been a 302, 327 or a 350. Now for the puzzling part. The code stamped on the front pad of the block reads CE885911. I have not been able to decode this in all of my research. Any information you can give me as to the size of the engine (327 or 350) and the strange engine ID code would be appreciated. Thanks. Scott MacGregor, 05-Dec-1999

This is a service replacement engine using a block that was cast April 8, 1968. The first three characters of the stamp stand for Chevrolet Engine [196]8 and the last five are the incremental serial number. You will not be able to tell anything from this number (without looking at factory records). To tell the specific type of engine (302, 327, 350) you'll have to look at the heads and/or carburetor (if original) or the crankshaft (either directly, by disassembly, or indirectly). An original distributor stamp might tell the story also. An example of an indirect method of determining the crank is to put an indicator on the piston top (with the head off) and measure the crankshaft throw as you slowly manually rotate the balancer or flywheel. For a 4-inch diameter piston, a 3.00-inch throw is a 302, 3.25 inches is a 327, and 3.48 inches is a 350.

---

I recently bought a 1969 Camaro with VIN 124379N661118. The Fisher Body Plate reads:


ST 69 12437 NOR356253 BDY
TR 715  53 53 PNT
06A     X11


I understand that I have a 1969 Camaro with a V8. That the body was done in Norwood, the interior color is dark blue, the paint on the exterior was Glacier Blue, and it was built the 1st week of June with the Style Trim Group. How can I find out what size motor was originally in this car? What was the original transmission? Is this a plain Camaro, or a SS/RS? I would like to restore this car back to original. Also what stripe kit was on it? My Camaro has a monoleaf rear. I'm stuck at this point. I got the body painted and the interior back to original. But I need to know just what kind of Camaro I have so that I can stripe it and return the mechanicals back to original. I need help on this. Elaine Gladhill, 05-Dec-1999

If the car has monoleaf springs, and a 10-bolt rear, and the rear is original (you need to check the axle stamp and casting date - see the decoding section of web site for details), then this car probably had a 307 engine with a PowerGlide automatic, although 3-speed automatic, 3-speed manual, and 4-speed manual transmissions were also possibilities. No way to tell for sure from the data you've provided - you'll have to look at the clues available (is there a clutch pedal, or is the steering column original and have a shifter, etc.) Assuming there was not an additional optional stripe added, the X11 code on a non-SS car (as this is) means the stripe was the D96 type, which are wheel opening accents. If your car had RallySport, and you'll have to look at the RS features to see if your car had it, then the rocker panels were also blacked out with this color. See the web site, and/or an assembly manual, for more details.

---

I am restoring a 1968 convertible. It is a matching numbers 327/PowerGlide with p/s, p/b, p/t, p/w and factory a/c. It has blue deluxe interior, blue top and Grotto blue exterior. I'm just about ready to repaint it and I'm looking for a modern paint code that will come close to the original grotto blue. If you guys have any ideas let me know. Reid, 4-Dec-1999

The original Grotto Blue DD paint codes for the three primary paint suppliers were:


Ditzler       13512
Rinshed-Mason A-1985
DuPont        4892-L


Take these codes to any modern automotive paint supplier and they should be able to cross-reference you to an equivalent modern paint code. Your main decision will be whether to go with a single-stage paint or a base-coat/clear-coat version.

---

I would like to know if there were any special cowl tag codes used on 1967 pace cars? Are there any production figures on 1967 pace cars, how many big blocks, how many small blocks, what transmissions? Thanks Kane Morrow, 30-Nov-1999

There are no official and complete Chevrolet records, so there are numerous viewpoints on the 1967 Pace car replicas. One view is expressed by Greg McGann in this web article on 1967 Pace Cars. There are several areas where CRG disagrees with Greg. For example the ten Canadian small-block cars were 327 cars rather than SS-350s. And the Pacesetter promotion cars were not Pace car replicas, but rather were a specific set of option combinations limited to L6 cars, coupe or convertible, of any color, and intended to sell cars rather than to create replicas. Also, we disagree that a dealer-built car of a specific color that was modified to look like a Pacer is a genuine Pacer. Our view on this issue is more aligned with that of Donna Crispino - a dealer-built car is a "replica of a replica", and perhaps important from a historical perspective, but not a genuine Pace car replica. While we agree with Greg's general argument that were probably more 1967 Pacers built than previously believed, we doubt that there as many built as Greg believes possible. Another opinion, well-documented and with extensive back-up data, is expressed in the difficult-to-find 1992 book "The Official Chevrolet Indy Pace Car Book from 1948 to 1990", by Donna Crispino and John R. Hooper. Donna Crispino is an ICC officer (though ICC status is in limbo now) and an expert on Chevrolet Pace cars. Previous wisdom was that all Pace Car replicas were SS models, but this changed when it was realized that the ten 1967 Canadian small-block Pace Car replicas were not SS models, but rather were 327/210 HP cars with 10-bolt rear axles that were otherwise optioned up to the equivalent of an SS. It is not currently known if there were any U.S.-delivered non-SS 1967 Pace car replicas. All currently known U.S. Pace car replicas are SS models. The following, to the best of our knowledge, defines necessary, but perhaps not sufficient, criteria for 1967 Pace Car replicas. All known replicas, whether LOS-built or NOR-built, are C-1 or O-1 paint V8 RS convertibles with 732-Z interior and a dash at the end of the option section to note the non-standard blue nose stripe color. Many, but not all, have fleet codes in the option field as well. All were built between 04A and 06C of 1967. They are known to have come with LF7 (Canada-only 06C cars, as far as we know), L48, or L35 engines (no known L30 engines at this time), with either 4-speeds or floor-shifted automatics. All known and documented non-Canadian cars were built 05D or before. All Canadian cars (which are completely documented) were built 06C.

---

Outstanding website! Glad I found you. I now have the 1968 RS convertible my dad bought in 1971 and that I drove in high school. It has the LF7 327 with the 2-barrel Rochester carburetor. 3 quick questions: 1. Ever since we have owned this car, it has occasionally demonstrated a lag or stall on acceleration, now almost to the danger point when pulling out into traffic. Is this typical of this carburetor/engine? I recently put a new reconditioned carb on with the same results. 2. On the left side of the engine, a bracket and cable connect the engine to the motor mount. My dad said this was from a Chevy recall in the early '70s due to breaking motor mounts. When I begin to restore this car (see next question) should I leave this cable Rube Goldberg set up or remove it? 3. This car survived 30 years in Illinois and now needs some TLC. Any recommendations on literature to study before beginning a restoration or what to look for from a restoration company? I also need info on repairing the hideaway headlight system - when it broke in '73, Chevy said it was more trouble to fix than it was worth! There is some rust in the door jam portion on each side - any recommendations on the best way to deal with this? Scott Altman, 30-Nov-1999

1. Sounds like a bad accelerator pump, despite the new carb. There are other possibilities (discussed via email). If it is not the accelerator pump, these problems are difficult to debug via email, so you should see a local mechanic. However this is not a normal behavior for this engine. 2. Your dad is correct. If you want to restore, and if you use original type motor mounts, you'll want to keep it. The original types have no metal backup connection, relying solely on bonded rubber. If the bond breaks or the rubber cracks, you've got a loose motor on that side. 3. Suggest you take your time and either join an email list and/or follow several of the bulletin boards related to first-gen Camaros. Bookwise, we suggest, if you don't already have them, that you get the catalogs from Rick's First Gen, Year One, Classic Industries, and D&R Camaro, for starters. Then consider the following (most of the catalogs will show these if you don't find them elsewhere):


1965-1969 Chevrolet by the Numbers (any major bookstore)
1968 Camaro Assembly Manual (repro)
A period Camaro parts manual (see ebay or vintage literature dealer)
1968 Chevrolet Chassis Service Manual (repro)
The free info package from the Chevy customer assistance
   center at 800.222.1020
The Definitive 1967-1968 Camaro Z28 Fact Book (major Camaro repro
   sellers)


You might also consider one or more of the following, though their value varies, depending on the reader:


Camaro Restoration Guide 1967-1969 (Scott)
Camaro Owner's Handbook (Sessions)
Camaro Restoration Handbook (Currao/Sessions)


---

I have read your site forward and back many times. It is really great, but I still can't figure out if a 1969 camaro I'm looking at is a true SS. It says SS on the front and rear, has a SS hood and a multi-leaf 12-bolt. VIN is 124379L513697. Cowl tag has ST6912437 VN195295 TR727 69 69 12C R681 12C and R681 I cannot find on any of your info. I saw on another site that it would probably have a Z27 stamp if it was a SS. Do you know if that's true or not? Also the car says 396 on the fenders but does not have the orig motor. Looking at the heater box, it has the two holes behind the rear head where the small-block tubes would have came thru. If it is a true big-block car would it have the holes behind the rear head in the firewall? Please let me know what you think this car is as it's about 200 mi from me and I would like to buy it if it is a SS car. Thanks for your help. Pat, 26-Nov-1999

The 12C is the build date, and R681 is the Van Nuys Fisher Body scheduling code. They are described on site in the cowl tag decoding section. The VIN and date match. The body number is earlier than the norm for this date, but not unreasonable. The scheduling code is right on the money with the VIN and date. So the VIN and tag appear to go with each other. Z27, as a cowl tag code, wasn't used on first-gen Camaros. BBC heater core tubes appear in the middle of the heater box. Transmission and engine mounts are also offset from those on SBC, since the BBC is not centered in the car (offset by about an inch to the passenger side). A 1969 SS must also have power front disc brakes, and a welded on framerail pad at the rear for the dual exhaust hangers. The axle dates must be compatible (get both the stamp date and casting date). If the tranny is original it normally has a partial VIN, and the date must be compatible. The transmission must be a Muncie if a 4-speed transmission. If it is a big-block an automatic transmission must be a Turbo 400. Study the decoding section more, and also the SS portion of the 1969 Visual ID table.

---

This is not a hard question for you I am sure, I almost don't want to ask. I just don't know much about these cars. I have just purchased a car that was represented as a 1969 SS, 350, 4 speed, ac, ps/pb, front discs. Everything seems correct until I started looking at your site and checked the VIN#. My question is this, if I give you the VIN can you tell me what I should have here? It is 124379N609172. This is a good #2 car, but if not an original SS I am going to do some work to it. Chad Schoonover, 23-Nov-1999

One can't tell much that is SS-related from a VIN, except that it is a V8 car (which it has to be, for it to be an SS) and that it was built in Norwood at a time when there should be an X-code on the cowl tag. Now the X-code may still not be enough for a good ID, because the SS-350 with RallySport or Style Trim used the same X-code as several other non-SS models. See if the tag has an X11 or X55 stamp. The X55 means the car is an SS-350. The X11 includes SS-350, but also includes some other non-SS models. (See the X-code FAQ for more details.) If your engine is original, that is your best bet to decode this car - look at the engine application code on the stamp pad and compare to the info in the 1969 Visual ID table for other specifics on the SS-350. For starters, the axle must be a 12-bolt with multi-leaf springs, the 4-speed must be a Muncie, and it must have power front disc brakes (which it does).

---

I wanted to know if you could tell me where or how Chevrolet came up with the name of Z-28 for the Camaro? Please E-mail with answer or if you are stumped. Thanks. Gary Schubert, 23-Nov-1999

Gary, we get stumped every once in awhile, usually on tough, component-level, numbers questions on which we're still doing research. Fortunately, this is an easy one. Z28 is simply the Regular Production Option (RPO) code for the option package. All GM options have an RPO code. The RPO's are assigned in related groups by the first letter, with two more characters following. For example, the L's are the engines, and the M's are the transmissions. L48 was the engine for the SS-350, M35 was the PowerGlide transmission, etc. Even today GM uses the same general option series. The Z series of RPO's are where special package groups are assigned. For first-generation Camaro, Z21 was the exterior trim package. Z22 was the RallySport package. Z23 was the special interior package, etc. The numbers up through Z27 (Super Sport) had been reserved or assigned for Camaro or other models. Z28 just happened to be the next available open code for what was initially called the Special Engine & Equipment Package; then later called Special Performance Equipment. After its 1967 debut, RPO Z28 became so popular in the performance press that in 1968 Chevy decided to actually name the car model by the option code that had since become so well known.

---

I just bought a 1967 Camaro. My question is about the motor. All the information I have seen says that there were only two small-blocks for that year. A 210 hp 327 and a 275 hp 327. On the aircleaner cover it lists a turbofire 200 hp 327. Is this an incorrect sticker or was this a rare production goof? The engine numbers are as follows V0630ME. It has a small two-barrel carb and the two-speed PowerGlide transmission. Any information would be most helpful. Shannon Gregg, 21-Nov-1999

A complete engine ID requires more numbers, but the V0630ME code indicates an engine built in Flint on June 30 of some TBD year. The engine codes are year dependent. For 1967, the ME code is the 327/210 HP PowerGlide motor, with a 2-barrel carb. You need to get the partial VIN stamp and/or the casting number and date to confirm the application year, but assuming those are consistent then you're OK. However, the sticker on the air cleaner is incorrect. Probably for a 1969 (and following) 307ci/200HP (not 327) engine. Maybe the entire air cleaner is incorrect, or maybe someone just stuck the wrong reproduction sticker on it.

---

I've a 1967 RS 327 with 4 speed. I'm getting ready to run a new wiring harness. Any best sources for information, tips and hints on running the harness? Any recommendations on where best to purchase a complete harness? Mike Hinshaw, 17-Nov-1999

There are several good harness makers. One line that has a particularly good reputation is the "Factory Fit" brand made by:


M. Parker Autoworks, Inc.
150 Heller Place, #17, West Side
Bellmawr, NJ 08031
856.933.0801 phone
856.933.0805 fax


The Factory Fit harnesses are guaranteed to be built to GM specifications and are correct to the originals. These harnesses are also carried by many resellers, such as Rick's First Generation.

---

I'm looking to add the bright pedal chrome trim to my '68 base V-8 convertible. Was this part of an option package? If so, what other types of upgrades were included in the package on a convertible? Also, was the chrome trim over the wheels/wheel well part of an option package? If so, what else was included with this package on the convertible? Daniel Schribert, 15-Nov-1999

The pedal trim was part of the Z23 deluxe interior, which was in turn a subset of the Z87 custom interior. Either of these options resulted in the trim, and these two option numbers were the only ways to order it. In 1968 Z23 included the N30 special steering wheel, woodgrain center dash molding, and bright dashpad trim. The wheel opening moldings were part of Z21 exterior trim, which was in turn a subset of the Z22 RallySport package. Either of these options resulted in the moldings, and these two option numbers were the only ways to order it. In 1968 Z21 included bright roof drip moldings and bright belt moldings.

---

I'm rebuilding a 1967 Camaro I believe it is a SS-350. I need some help understanding some of the letters . I know what the color and interior are. Here are the ones that I do not know: X-2L 36, 4-FP John H. LaBlank, 14-Nov-1999

The text you quote, "X-2L 36, 4-FP", is part of the Fisher option codes that appear on the 1967 cowl tag. However the options normally appear without the dash and comma punctuation. The X indicates power windows, 2L indicates 4-speed, 3S (not 36) indicates interior trim, 4F indicates remote control mirror, and 4P indicates SS-350 or post-December L30/M20. See the CRG decoding page for more information on these and other option codes.

---

Is there anyway to run the VIN and find out exactly what the car should have been? I recently bought a 1967 Camaro that has some of the options of a SS 396. The cowl tag is missing. The motor stamp begins with CE. I can't seem to find out what that motor is. The only thing I've come close too is a SBC. Please help. I really want to find out everything I can about the car. Ron, 13-Nov-1999

No VIN tracing exists except for Canadian-sold Camaros. If you have one of those you are fortunate. Without a cowl tag you can only guess at the original stamping and configuration. With enough research you might get close. Another route is to attempt to find your original owner - who might be able to confirm your original configuration. Your CE motor is a service replacement engine. You can pin down a few more details by looking up the block casting number and comparing to references (such as Chevrolet By The Numbers), but for many blocks this will only get you a range of applications for which that block was used.

---

Where can I find a diagram or picture of the locations for rear speakers in a 1969 convertible? I understand it is still behind the seat somewhere? Dean, 09-Nov-1999

The speakers are same size as coupe - 6-inches by 9-inches but mounted to the canvas top well facing backwards. Not very useful with the top down. We understand that replacement speakers have to be very shallow with a small magnet, with a flush face (no tweeter sticking) because the grills are flat. Maximum allowable depth seems to be about 2-1/2 inches. For mounting you should be able to find two dimples on each side to drill out between the two access holes on the panel behind the top pump (for those with a power top).

---

Did they put cowl induction hoods on 1969 SS from the factory? I have a 1969 Camaro with a exterior trim code of M178. I cannot decode this - please help. Monty Kitchen, 03-Nov-1999

The ZL2 ducted hood was an option introduced circa December 1968, available on SS and Z28, and included on the pace car replicas and COPO 9560/9561. This is not an exterior trim code. It is a Van Nuys work order code for cars built at the Van Nuys, CA factory. See the decoding section, though there is little that can be said about the code except that it must correlate with your build date and VIN, and so is useful for detecting fake tags.

---

I own a 1968 Camaro that was originally built with the front bench seat. Some one installed bucket seats sometime later. The seat backs are a hard plastic. I also recently scrapped a 1968 coupe. This car has the original front buckets. These seat backs are made of a metal material. I have searched vehicles at some shows and most have the metal seat backs, but some also had the plastic seat backs. I also recall from the late seventies owning two different Camaros that had different seat backs, one being metal and the other plastic. Can you shed some light on this? Also, in response to the question of C. Allen, 17-Sep-1999. He wants to install a floor shifter and console in his Camaro. I also recently installed a shifter and console in my Camaro. The floor pan has various dimples on the transmission tunnel. These dimples are the spots where you drill the floor for mounting the the shifter and console. I was able to pick up some 1/4" collapsible nuts from my local GM dealer. There is also a dimple where the cable passes through the floor. As far as the wiring, it was just a matter of extending the wires from the column switches to the floor shifter switches. Hope this helps. =:) Rob Stickan, 01-Nov-1999

Our research indicates that the metal seat backs were 1967 only, generally phased-out around April 1967 (though a late build 1967 exception has been noted that may have used left-over early seats). We have never seen them on an original 1968 or later model. We believe that your metal-backed seats are 1967 seats transplanted into that 1968. Thanks for the shifter update. We're posting it for those that are interested.

---

What is the part number for a 1968 AM-FM radio, and does it have an amp? Les Dixon, 27-Oct-1999

The Camaro AM/FM was 986824 for 1967, while in 1968 it was 7303241. They are very similar in appearance; 1968 has "FM AM" on the lens near the switch, while 1967 does not have this. Firebird radios are nearly identical but have different model numbers because the lens is not tinted. They do not use an amp. When buying one, make sure the mounting ears have not been cut off the die-cast face plate - as this is a very common problem.

---

Gentlemen, I own a 67 RS/SS 350 and I have conflicting information (no surprise) about the oil filler tube. Was it chrome or black? I know the cap was chrome, but several good sources have told me different information. Also, my factory traction bar for my 12-bolt rear is round. Is it true that the small blocks got the round bar and the big blocks and Z28 got the square bar? Thanks for your time. Kerry Ninkovich, 15-Oct-1999

The 1967 SS-350 oil-fill tube is, to the best of our knowledge, black. We are not aware of any exceptions at this time. The simplified story on radius rods you've heard is far too simple, and therefore not accurate. The CRG relates the results of radius rod (traction bar) research to-date in our CRG Research Report on 1967 Radius Rods that hopefully will clear up all of your questions. The story is not complete, and we continue to add bits and pieces to it, and make minor corrections, but most of the common trends have been identified.

---

07-Oct-1999 As an update and correction to our 31-Mar-1999 response to Steve Hendrix on tires for a 1968 Z28, we were sent the following by Jerry MacNeish. Note that there is no NCRS equivalent for Camaros, so without uniform and universally accepted Camaro judging guidelines, judging issues, especially on repro parts, are subject to interpretation. However, Jerry is current on typical Camaro judging practices, so we'll trust this information will be of value to those in a similar situation. Thanks, Jerry!

Regarding tires for 1968 Z28's. All 1968 Z28's were equipped with the wide tread GT tires. They were part of the Z package. The reproduction E-70 wide treads are accepted as full credit when being judged for Diamond or Red, White & Blue, or any other concours Camaro class. One incentive given to owners going for high marks in the concours end are "bonus points" for original wide tread GT tires. However, they must be nylon cord and not the later polyester cord to get the extra bonus points. Jerry MacNeish

---

After reviewing your "Camaro Visual ID Hyper Table" I noticed listed models of "Z28", "LM1", "SS" and "COPO". What about "RS"? Or was there nothing distinct about the "RS" to rate a column? Kyle Rodgers, 06-Oct-1999

We focused on the performance models initially. We just haven't done the RS yet. We've got other model additions to also include in a future update; for example the base V8 case has been drafted but we haven't had time to review and update.

---

Help please!!! I'm considering the purchase of a 1968 Z/28. How can I be sure it is genuine? I've heard that if the letters "MO" appear in the VIN then the car is a real Z/28. Your feedback will be MUCH appreciated. Thank you! Tracy Gordon, 04-Oct-1999

You're close to the right track, but not quite on it. A 1968 Z28 motor has an application code of MO. However this is stamped on the motor - it is not part of the VIN. There is much more than this to determining originality. Not only should the motor should have a matching partial VIN (indicating not only a 1968 Z28 motor - but the one that originally came with this particular car), but the rest of the car should be consistent with the requirements for an original 1968 Z28, and dated original components should generally be fairly close in date. It is possible to fake many/most of these items, so if you have any misgivings about the car a thorough inspection and experienced eye is required. You can get a good introduction to the subject by studying the Visual ID table for 1968 and by reading the decoding section.

---

I'm looking at a particular 1968 RS Convertible, but the VIN and Body Number Plates don't jive. The VIN (from the dash) starts with a 124378 - indicating a '68 V8 coupe, right? However, the Body Style from the Body Number Plate shows ST 68-12467 - indicating a '68 V8 convertible. Am I looking at a possible stolen vehicle or is it possible the VIN just isn't indicating properly? Any help you can provide would be greatly appreciated. Bob Carroll, 28-Sep-1999

There is definitely a discrepancy, and it is right to be concerned until it is resolved. VIN errors (which this would be - assuming this is truly a convertible) are extremely rare (we've only seen one example of a VIN error - one that involved an extra digit). The only other explanations involve a rebodied car, a tag swap, or a a coupe that has been converted to a convertible (but then the cowl tag is wrong). To start pursing this, check the VIN against the partial VIN stamped on the top of the firewall under the cowl vent cover. You can usually see the partial VIN thru the slits if you get in the right position with a flashlight. If you have to take the cowl off it isn't a big deal - four screws plus the wiper arms. The last eight characters of the partial VIN should match exactly the last 8 characters of the full VIN. Unfortunately, it has long been known in certain circles that these characters should match and are often checked, and so more knowledgeable counterfeiters have various methods of simulating the correct cowl partial VIN stamp. These methods won't hold up during a complete restoration, and so it will eventually be found out, but too late for a buyer. The next step is to compare the cowl tag data with the VIN, and this process continues with the rest of the numbers on the car. Unfortunately (based in large part on conflicting vehicle data we found during follow-up emails) we believe this car is probably a stolen convertible with the original cowl tag, which has had the VIN plate replaced from a legal coupe and the partial VIN restamped. The current owner appears to be blameless in this matter and vows to find out as much as he can - even if it requires disassembly down to the heater box partial VIN (which is only rarely touched by counterfeiters).

---

I am a Chevrolet parts manager in North Jersey and a few weeks ago my new zone manager stopped in. It seems one of his jobs, years ago, was working in the COPO department. We were talking about my car and he said he had a 1969 Camaro convertible that was a pace car for the US Grand Prix at Watkins Glen. He believes that there were 5 cars built - all 396/375 auto cars. Did any one ever hear of these cars? Maybe another batch of cars like the NASCAR pace cars. Please comment. Mike Pretko, 25-Sep-1999

We're obviously aware of the Indy cars (as group members own several), and aware - but less so - of the NASCAR pacers. While we've heard rumors of other pacers beyond these, we'd not seen data or history that was referenceable. After getting the phone number for your Zone Manager, we called him to get some background data, and found some interesting stories that we hope to include in upcoming features. Unfortunately, while he could tell us many things from memory, he had no remaining photos or documentation for any of the Watkins Glen pacers, even the car he owned - which he sold in 1973 and was subsequently totaled by the new owner. While we haven't finished tracking this topic down, it will take time. If anyone has first-hand knowledge about first-generation Camaro pacers in general - or any knowledge of the non-Indy pacers specifically, we'd like to talk to you - and you can get in touch with us by sending an ASK CRG! message from the link at the top of this page. Thanks, Mike, for the reference and interesting topic!

---

I enjoy your site, keep up the good work! My question is about color on convertible tops in 1967. I purchased this car 18 years ago and am now restoring it. My cowl tag shows the paint code as C-4; a blue top. To my knowledge, 18 years ago the top was a light blue, but I have purchased a top from from a local classic supplier and was told 1967 convertible tops were black, white, and dark blue. Did GM really goof up here and use a Bright Blue Custom Interior with a Dark Blue top? This would not be a consistent color combination. I do not think it is faded, I removed the old one myself and remember a much lighter blue. Please help me out and tell me there was a blue lighter than this dark blue. Also can you tell me why this car would resemble a Pace Car but built in December 1966, when Pace Cars and Replicas were built in April 1967 and after? Thanks. Joe Robinson, 24-Sep-1999

Colors do fade with exposure. While we can't call the 1967 convertible blue top a "dark" blue, we also can't call it a "light" blue - so you may have experienced some fading. After re-checking, the description used by GM for this color is "Medium Blue". I showed the dealer sample book with the original color samples to my wife (with my finger over the GM color name) and asked her to describe the color as light, medium, or dark blue. She called it "medium". It is true that there was only one color of blue top, while 1967 included two interior blues, Bright Blue and Blue, plus Turquoise. I suspect the original top color was chosen to try not to clash too badly if used with any of these three colors. We have no specific suggestions for a repro source for a correct medium blue top - you'll have to do your own searching here. The pace car was just a specific sequence of options - and the color combination wasn't original or unique to the pace car, as your car demonstrates.

---

I have a 1969 SS that originally came with the deluxe houndstooth interior (713). When I bought it 2 years ago the seat covers had been replaced with standard ones. I am considering putting standard door panels in the car to save a little money. Will these panels stick right on without problems from the door handle or lock? I noticed another question was similar but about the custom interior instead of deluxe. Is this the same? Also, I saw an article in a popular car magazine about a '69 SS with the deluxe houndstooth interior but with the standard door panels. Was this a possible combo? Any help would be greatly appreciated. Greg Hiatt, 24-Sep-1999

Deluxe and custom interiors are one and the same and included the molded door panels. The car in the magazine was incorrect. The door handles are different and the window cranks will stick out about 1/4-inch. But the panels will fit. You can also find the deluxe door panels at swap meets and the like.

---

I am having cooling problems and thought a front spoiler would help. What is correct for '67? with front spoiler? without? optional? When is it correct? Thanks -- and keep up the GREAT work! Steve Dobek, 18-Sep-1999

Spoilers weren't available from the factory in 1967. They were made available to select racing teams only. For the 1968 model they (front and rear together) were made a genuine factory option, RPO D80, but were not required for cooling.

---

I have a 1968 Camaro with custom medium blue interior. When I bought the car, it didn't have a console. I am wanting to add one in. Were the consoles painted to match the interior or were they left black? Also, the car was originally a 4-speed car (has a turbo 350 now), and I want to put an auto shifter (original style). Are there any markings in the transmission tunnel for the stock shifter to mount and how hard would it be to wire it in with a repro harness (it has a column-shift dash harness)? Chris Allen, 17-Sep-1999

Most 1968 interior colors had the console painted to match, and blue was one of those colors - a blue interior has a blue console. We know that in 1968 an automatic floor shifter didn't use the large transmission tunnel hole, only a small one for the shifter cable. The wiring might require a new underdash harness - but we haven't attempted to study such conversions.

---

As an update to the fan clutch letter of 20-Aug-1999, we dug through our files and found the following related references:

Cars & Parts, March 1995, pages 86-88. Eaton Corp rebuilt a fan clutch but the faceplate was not original in appearance. No address for a contact.
Cars & Parts, July 1995, page 86. A fan clutch was rebuilt by Vintage Automotive Research, 2602 NW 94th Ave., Coral Springs FL. Phone is 305-755-1161. One page and not much description.

---

I have recently purchased the chrome trim that goes along the bottom of each side of the car for my 1968 Camaro. Each side contains 4 pieces, 3 above the rocker panel and 1 that goes along the rocker panel. Did 1968 Camaros come with both sets of chrome trim? Do you know of any detailed pictures that would show me the exact location the chrome should be attached to the car? Peter Imseis, 02-Sep-1999

You've got two mutually exclusive sets of trim. The three that attach just above the rocker panel (fender, door, quarter) are only for the rallysport option. The one longer piece that goes along the rocker panel under the door is only for the non-rallysport model. The assembly manual schematics show the attachment of these pieces.

---

I was thinking of upgrading my speakers, but do not want to cut any holes. I was planning on ordering the dual in-dash 4-inch coaxial speakers that fit in the original dash position. Anybody use these? How easy are they to get to? The car is a 1969 SS 396 with air, 4-speed, console gauges. Is it easier to go thru to glove box or will I have to remove the center a/c vents? These also need to be replaced, so I can tackle both jobs at once. How hard is it to replace these? Does my SS have sway bars? I was thinking when I get more money to spend I might add front and rear bars as one of my improvements. Car is very original and don't want to modify it too much. Also can anyone recommend a good book/manual to help me out over the course of my restore? Looking for something with parts exploded views and the like to help a very low mech. inclined person like me to do some of it myself to save $$$. Thanks. Mike Brown, 28-Aug-1999

We think you're talking about the dual speakers that are mounted on a board that is shaped like the original single speaker. One of our members installed one in his 1967 and isn't impressed with it. His quote: "Better than stock but not worth the price." That's an opinion - yours may differ. He said that removing the glovebox made the install easy, but he didn't have A/C to maneuver around. All first-generation Camaros have a front sway bar. None came from the factory with rear sway bars. For a good book, we suggest you start with the factory assembly manual; available from a number of sources for about $19US. The assembly manuals are organized in a logical fashion, but it may not be obvious to you at first. Spend some time looking at it before you get frustrated with it. The first-half covers final assembly (not including the assembly steps done at Fisher Body) of the base car (with some notes on how options affect assembly). The second-half documents most of the options, alphabetically by Regular Production Option (RPO) code, including C60 (air conditioning) and U63 (AM radio), which would be the two sections you would be most interested in for your speaker project.

---

One of these days I'll have all the numbers off my car and I'll get around to registering it with you, but meanwhile would you please help me with some numbers on my rear axle? On the axle tube (passenger side) PW0627G is stamped. Cast on the differential housing, is the number 3894859 and GM8 and F28. Would you please tell me what I have? Thanks and keep up the good work! Keith W., 31-Aug-1999

This is a 10-bolt, 8.125-inch ring gear axle, with center section cast on 2 Jun 1968 (F28) and axle assembled on 27 Jun 1968 (0627). The PW code isn't listed in our 1968 Camaro axle codes, but in 1967 it indicated a 2.73 ratio, non-posi, 10-bolt. While we have seen some axle codes that appear to have been used in years adjacent to their nominal application, you might want to double-check the letters to make sure your axle is actually stamped PW, as there are obviously several letters that are easily confused in such a stamp.

---

Mom bought a 1968 convertible in 1968. It had the bumblebee painted trim. This is not RS or SS. Is this unusual? Also, how do you rechrome the plastic instrument panel detail? Is there a paint? Tim Bob, 31-Aug-1999

The bumblebee stripe was available as RPO D91 on all 1968 models except Z28, and was standard on SS until January 1968 when it was replaced as the standard SS stripe by the D90 stripe (also available as an option on other non-Z28 models). We aren't aware of a chrome paint that truly looks right. Your acceptable choices are rechroming (supposedly doable, but we can't offer specific suggestions at the moment on where to get this done - check Hemmings), a reproduction piece from one of the classic suppliers, or a good original used piece (hard to find for some of the plastic pieces, especially the instrument cluster carrier). Out-of-stock GM service pieces (NOS) exist in theory, but are very hard to find (and expensive) in these parts.

---

I am restoring an all-original 1967 coupe. I would like to remove the body cowl tag and VIN plate to clean and paint underneath. Is this common practice? Is this a good idea? The rivets holding each are unique. Are they available aftermarket? Thank you. Steve, 31-Aug-1999

Our recommendation is to not mess with the rivets unless required to replace structure underneath, or unless you are using a body stripping process (chemical dipping, oven ignition loss, etc.) that would damage the tags if left on (and the decision on whether to use such a process should include the issues related to removing and reinstalling the tags). Several of our members have successfully removed cowl tags (very carefully) without destroying the rivets, and one has twice been able to reuse the old cowl tag rivets when reinstalling the plate. However we have no internal experience with VIN rivets - so we can't say if this is possible with the VIN plate. This isn't an endorsement or recommendation, but we are aware that replacement rivets are available from:


Trim Tags, Inc.
900 Port Clinton Ct. W. 
Buffalo Grove, IL 60089-6637
Phone or Fax: 1-847-478-TAGS
tuffgto1@aol.com
http://www.trimtags.com/contact.html
(Note that this web site home page is currently broken, so
use the contact page above as a starting point.)


There may be other suppliers, and they would often advertise in Hemmings. We offer the contact information above despite the fact that this web site mentions creating modified cowl tags - CRG ACTIVELY DISCOURAGES THIS PRACTICE OF REPLACING ORIGINAL TRIM/COWL TAGS WITH MODIFIED TAGS. Such changes appear to us to border on fraud, and are definitely counterproductive to the long-term interests of the hobby.

---

I am restoring a 1969 SS convertible and have been powder coating most of the frame parts. The price for the work is the same no matter what the color is and I can't seem to find a definitive guide for what colors things should be: a-frames, bolts, everything. The books I have found have been very vague. I don't even know what color the steering box should be. If there is a book you could suggest or very good clear color pictures that I could buy - I can't be the only person having this problem. Thanks in advance. Gary Gwynn, 26-Aug-1999

Have you read Jerry MacNeish's books? (See the CRG references link.) Jerry has both a 1967/68 book and a 1969 book (a new revised printing may now be out). These focus on Z28 and SS, but he also includes part finishes that are common to most first-generation cars. CRG hasn't verified Jerry's color lists yet, but his lists are what we are referring people to for now. CRG will eventually develop our own conclusions on finish colors (hopefully, generally verifying Jerry's work). Until we can take the time to address finish colors as a broad topic, we are only looking at finishes for specific items, and usually those are items already being researched for other reasons.

---

Build Sheets, sometimes called "Broadcast Sheets". Some of the info contained on these sheets are self explanatory (i.e., "Body Color", "Serial Number", etc.). However, there are tons of letter/number codes that are not so obvious. Is there any source for the decoding of these letter/numbers? Also, I have pulled the seats from my car but no luck. I have heard that on some cars (like Corvettes) the sheets were "sometimes" placed on top of the gas tank. Camaros too? Is there anywhere else I should look? I know after 30-some years that the chances are extremely slim on finding the build sheet. However, it's worth a shot right!? Ed Bertrand, 22-Aug-1999

There were two Broadcast Copy Sheets that we know of - one for the Body and one for the Chassis. They have been found in many places. On top of the gas tank is one. Others include under the rear seat, under the carpet, and in the headliner or behind the sail panels. However, we should caution folks that most Camaros will not have them (so it isn't worth ripping up your car just to try to find one) - and if you do find one, treat it like an ancient manuscript; it will be extremely fragile. We are working on two decoding projects. 1967 ECL codes (window sticker code suffixes) and 1969 broadcast sheets. Neither are ready for decoding use, though much progress has been made. When we finish either project we plan to extend them to the other years, using the base information from the one year as a guide to the other years.

---

I have a early 1969 (09B) RS/SS, L34, M21, 3.73, custom blue interior with a LeMans Blue exterior. The car is totally unmolested with 24K original miles, still has the original shocks and ignition wires, and I have the window sticker and POP. The hockey stick stripe starts on the fender extension (for about 1 1/2 inches). Is this typical of early cars, or was this randomly done? If it is typical of early cars when did they stop striping the fender extension. Also what heater hose markings were used on early cars (ribbed or GM stamping). The smaller heater hose (the bottom one on the heater core) has the GM logo with original clamps. The large hose has been replaced. Also I found GM logos on the short fuel and vent hoses from the tank to the metal fuel line to the engine. Steve Shauger, 21-Aug-1999

The SS "hockey-stick" stripe you describe appears typical of the early 1969 model. The assembly manual shows this, as does the dealer promotional brochure (though the marketing art-work is not a definitive source - since they didn't always document how they were actually built). At this point in time CRG doesn't know what changes to this stripe were made when - this isn't an issue we've been trying to follow (not that we shouldn't - but we can only do so many things at once). However, if owners with original SS hockey-stick stripes will tell us the type of stripe (starting point below the fender extension joint or even with it) and date of build - we'll log that information and report on the results. Your hose markings differ from the opinion of our 1969 guys but we haven't formally studied this, so we can't offer an absolute. Our belief (at least formerly) was that the 1969 3/4-inch heater hose had a GM logo adjacent to a square, repeating every several inches, while the 5/8-inch hose was smooth with no markings. We're not aware of any 1969 OEM Camaro hose that was ribbed. (However, we notice that Jerry MacNeish doesn't agree - so we may have too-limited a view.) The assembly manual records the hose model numbers were changed just prior to first build, on 30-Jul-1968, from 3737197 to 3739436 for the larger diameter and from 3738428 to 3760966 for the smaller diameter. We'll file this away for comparison with other original cars as they come along. If any readers also have original cars and can comment on their hose markings (regardless of the first-generation year), please send us a note. We'll report on any findings.

---

I'm doing a concours restoration on a 1969 Z28, and I need a description of the hardware (called a j or u clip) that attaches the front fender to the inner fender, located center top of fender on both sides. I've looked at three different styles, one with a six-sided nut, and two others square, with nuts with corners pressed down. Help! Jeff Miller, 20-Aug-1999

Unfortunately, at this point, CRG isn't sure that these U-nuts (as the assembly manual calls them) aren't both factory and year specific. We are doing research on fasteners in general, but have no concrete conclusions on U-nuts. Some edited thoughts from our members follow, but for additional information our suggestion is that you post the same question to the Camaro-Untold Secrets, Camaro Institute forum, http://www.camaro-untoldsecrets.com/ and see if you can find information on original cars from the same year and factory as your car. The assembly manual calls these captured nuts "U-nuts" and they have P/N 3784845. There are 3 on each fender and they are different than those that hold the core support to the inner fender and the back lower edge of the inner fender to the dash panel - these others are P/N 3845256. The AM shows these all as 4-sided nuts, and the one on the bottom of the inner fender was observed to be the square type on a 1969 NOR car owned by a CRG member. On 1967-68 LOS cars we've seen the six-sided hex nut, but on 1968 LOS full-size Chevys we've seen the square type with the corners pressed. There are also 2 different types of hex nuts, one with the flat parallel to the edge of the clip (67-68 Camaro) and one with the point toward the edge of the clip (found on 1969 Novas). We aren't sure if the 1968 NOR cars used the same type as the LOS cars. These U-nuts are used in over 30 locations on the car.

---

What is the "fluid" in a 1968 396/375 radiator clutch fan? What quantity of this fluid was put into the clutch? When/how was the fluid put into the clutch during manufacture? Any idea who manufactures the fluid or what would be an acceptable substitute? Steve, 20-Aug-1999

Fan fluid clutches are sealed and are not field serviceable. And, in general, we don't specifically know of anyone we can suggest that is rebuilding the old fluid clutch units. We've heard rumors from the 'vette crowd about someone who has started rebuilding old vintage fan clutches. The rumor indicated that these were high-priced and of questionable long-term reliability. One of us recalls a Cars & Parts magazine reference article from several years ago (couldn't put our hands on the exact issue), where they had a clutch rebuilt, apparently keeping the original front and making a new back, and the two halves were crimped together in a press.

---

Would a 1970 Chevelle rearend fit in a 1968 Camaro? What other rearends might fit in a first-generation Camaro besides a Camaro rearend? Shoe, 17-Aug-1999

The Chevelle uses a coil-spring rear end and is not a drop-in replacement. Also, depending on the year, the axle lengths are different. We don't claim to be experts in drop-in replacement parts, but to the best of our understanding of drop-in housings, the best candidates include 1968-71 Novas and 1971 Pontiac Venturas. 1970+ Camaros fit if you move the spring perches. One would think that a 1968-69 Firebird would fit, but one of our guys looked in an interchange manual and it does not list the Firebird as interchangeable with the Camaro. Don't know what is different about them, if anything. We've also been told that the Ford 9-inch is a bolt-in if you use a '57-59 Ford passenger car rear, the drive shaft doesn't even required cutting. Just the bolt pattern for the wheels is different. Other Ford 9-inchers require some minor modification but are commonly used. There are places that supply these to fit Camaro.

---

I`m restoring a 1969 Z28 and need to know where the black stops on the firewall. I've seen some stop at the top and others go all the way under the cowl. Which is correct? Also, I have a Van Nuys car and on the cowl tag on the bottom below the paint code there's a L260 stamped on it. Any ideas on what this stands for? question Chuck Berry, 17-Aug-1999

With the firewall already painted, you want to spray color from the windshield area towards the engine compartment. You want to end up with a fuzzy color edge at the top corner of the firewall. You don't want to have a sharp tape line division between the firewall black and color. A good place to mask is about an inch down the firewall. Since you have a Z28, you have the additional task of painting the undercowl area with stripe color paint. See an example in this photo link to a 1967 Z28 cowl. Also, see the ASK CRG! question from 11-Apr-99 on related issues. The L260 is the Van Nuys Fisher Body scheduling code. See the discussion on this in the decoding FAQ page.

---

I'm trying to find out how interchangeable some of the parts are for my '67 RS/SS Convertible. I would like to put front disc brakes on it and possibly power windows. Can you maybe guide me in the right direction as to where to look first. Thanks for your help. Jimmy Jesteadt, 07-Aug-1999

As far as the power windows go, we'd be surprised if anything other (besides 1967 Camaro) than a 1967 Firebird would work, and even then it may depend on the interior type. If anyone else knows for sure - send us a note. For your question on brake parts, CRG member Mark Canning created the following interchange list. There are a lot of little miscellaneous parts needed beyond these major items, but they should also be obtainable off of the appropriate donor vehicle. This assumes an original-style 4-piston brake system. Retrofits of other brake systems are commonly done - but we don't cover such here and you should inquire of other web resources for that type of information.


67-68 4-Piston Front Calipers
RH inner 5468377
LH inner 5468377
Outer 545534 (fits either side)
Interchanges with both 1967-68 Chevy II and Nova 4 piston
calipers.

Rotors
PN 3901098
Came on 1967-68 Firebird, 1967-68 Pontiac Tempest, 1967-69 Camaro,
1967-69 Cutlass, 1967-71 Skylark, 1967-72 Chevelle, 1968-74 Nova,
1970-72 Monte Carlo, 1971-72 GMC Sprint, 1971-74 Pontiac
Ventura II, 1973-74 Buick Apollo, 1973-74 Olds Omega.
Buick and Olds have different PNs but will fit.

Steering Knuckle
PN 3966151-2
Came on 1967-69 Camaro except Z28 or special steering (N40/N44),
1967-72 Chevelle, 1967-72 Buick Skylark, 1967-72 Cutlass,
1967-72 Chevelle, 1967-72 Nova, 1970-72 Monte Carlo, 1971-72 GMC
Sprint, 1971-74 Pontiac Ventura II, 1973-74 Buick Apollo.

Master Cylinder
PN 5469489 (Moraine Stamped SA)
Came on 1967 Chevelle, 1967-70 full-size Chevrolet with power
brakes, 1967-68 Camaro or,
PN 5463492 from 1967 Firebird, 1968 Nova, or
PN 5468813 (Moraine Stamped AD)
which came on 1967 Chevy II, 1967 Camaro, and 1968-69
full-size Chevrolet without power brakes.

Vacuum Booster
PN 5458828 (Moraine)
1967-68 Camaro, 1968 Nova w/disc brakes.


---

Are there any code stamps on rally wheels to tell what size they are? If so could you tell me what they are and signify. Thanks. Scott MacGregor, 11-Aug-1999

In addition to the size stamp (such as "14x7") that is usually located under the tire, most original rally wheels will be noted by a two-letter application code near the valve stem (along with other stamped information including date and factory, etc.) The first-generation Camaro wheel codes versus side are documented in the Wheels FAQ of the Suspension/Tires/Brakes/Wheels FAQ Page. If you find a 2-letter code, but it is not listed in the above referenced FAQ, then you probably don't have original wheels, and you may need to dismount the tire to see a size stamp. Or you can create your own crude "deep-throat" caliper to roughly measure the width. Make it how you want, but I'm thinking simple, and in terms of a plastic ruler and some coat-hanger wire.

---

A few weeks ago I broke a valve spring in my 1969 Z28. In the process of replacing the spring, I pulled the push rod to inspect it for bends, etc. When the push rod came up, the lifter came with it as well and I was forced to take the intake manifold off, find the lifter, etc., and put the engine back together. I managed to do so without incident or too much trouble. I've since test driven the vehicle a multitude of times and figured it time to take the Z on a trip into work. In the 30-mile commute, I noticed that when I would step on the brake, the radio would shut off for a second or two, then come back on. I knew that something was shorting out - when I went out at lunch to run an errand, I found that absolutely NOTHING on the car was working. No dome light, horn, head lights, tail lights, brake lights, etc. NOTHING. Battery was tested and all was fine. Alternator tested and again fine. I took the battery out of its compartment and found that a wire coming from the positive terminal of the battery was completely gone. Not the starter cable but a little 12-gauge stranded wire that I had no idea where it was supposed to go. The insulation was melted off and the wire itself was broken. Looking around to where the wire could have been previously, I found another wire with cooked off insulation attached to the inner fender of the car. A positive lead from the battery running directly to ground? Surely not but the insulation was same color and gauge. I had the car towed home and have since inspected the wiring harness somewhat for shorts. This isn't fun to say the least. I have no idea how long the wire from positive to ground had been there....how long it had been burned up. I never noticed it before. Perhaps it's coincidental? Perhaps it truly did NOT run directly to ground, I don't know. My question is two-fold: could I have shorted something obvious out with the removal/replacement of the intake (including alternator, etc.), and secondly, where does that little tiny wire go if anywhere? I've done nothing with the car since I've had it home except push it into the garage. Please let me know if you have any suggestions on where I should begin. Robert Hicks, 07-Aug-1999

This is getting real close to a repair question - but we'll at least explain what these wires are (or supposed to be), and offer a potential explanation. For starters, unless a previous owner has done some highly unusual and elaborate electrical engineering to the entire car, you almost certainly have not crossed the feed-positive wire and the chassis ground wire, (i.e., the "small" wires coming off the battery posts). The red "12-gauge" wire (supposed to be 14 gauge) should go from battery positive to the single-post terminal block that is just in front of the battery on the radiator core support. (There is a little indentation molded into the support about 3 inches down from the top.) From there it turns into a red 10-gauge wire that goes across the top of the core support (under the top lip) to the horn relay on the drivers side. It attaches to the second terminal from the right looking forward. This is the charging cable and also the only source of power to everything in the car except the starter. From there it fans out and feeds the car: ignition switch and charging system, another pigtail if the car has power windows or power top, etc. (to use one of your favorite Latin expressions). If this line is open then everything is dead. The terminal block post is insulated from the core support, but if the battery moves around it is possible to either break the post off and weld it to the core support or pinch the wire between the battery and the radiator. This is just something to be aware of. Coming off the negative side of the battery is another small wire; the car's chassis ground. And here is another scenario for possible failure that can occur when a car is being worked on, and the primary negative battery cable is left unhooked from the engine block, or not reinstalled correctly - while the chassis ground remains attached. In this case the whole car will try to ground through the small chassis ground wire. This is way too much load for that little wire and just a few attempts at running the starter will "toast" this wire. If it opens completely (and it will), and the negative cable itself is not properly attached, then you've got a dead car.

---

I have a 1967 RS/SS 350 with a PowerGlide. (White with black bumblebee)

Do you have any production figures for the RS/SS cars?
Do the grille emblem and gas tank emblem have to match? My car had a plain SS on the grille when it first came in the family, (around 1979)and I replaced it with a SS350 emblem. It says "SS" on the gas lid and said "SS" on the grille, but I had never seen a 350 car that didn't say "SS350" on the grille, so I assumed it had a big block emblem on the grille.
On the front header it has a "camaro" plate emblem in an engraved rectangle. Every other 1967 I have ever seen had the cursive "Chevrolet" emblem over the Camaro emblem. The panel shows no sign of being tampered with underneath (no filled holes, etc.) so could this be original?

Thank you. Tim Icenhour, 05-Aug-1999

There are no option combination production figures.
The SS emblem replaced the SS350 emblem in the later cars, when the 396 appeared. Both grille and cap should say SS350 for early cars, or SS for later cars.
The lowercase "camaro" embedded in a rectangle is one-half of the correct emblem - you are missing the larger "Chevrolet" that should be above and slightly left of it. Not impossible that it was missed at the factory, but it seems unlikely. Perhaps a replacement header?

---

Do you plan a date-decoding section soon? I have a two 7029202 Quadrajets with some extra codes that I can't get real clarification on. The first has "DH & 0202", the other has "DH & 3268". Any help? Thanks! Great web page! Mike Terebuch, 02-Aug-1999

Yes, we have a draft date de-coding document that we plan to polish and eventually make public. DH is the customer code. A four-digit carburetor date is normally the three-digit Julian day of year followed by the single digit year. So Jan 20, 1972 for the first (a service replacement carb, apparently) and the 326th day of 1968 for the second (sometime in Nov - see the FAQ Julian calendar on the FAQ Table of Contents page for the exact day of the month).

---

How many Yenko Camaros were built in 1967, 1968 and 1969, and what was the base price? And, what was the standard horsepower for the 1968 rallysport? Thanks for your time. Carl King, 02-Aug-1999

Your email bounced, so hopefully you'll read this here. We don't have any concrete data on Yenko Camaro production, and we don't purport to be experts on them. We've not heard any numbers for 1967. The numbers we've heard are 64 in 1968 and either 198 or 201 in 1969. The Yenko conversion came in various prices. See the Yenko web site, which is noted in our CRG Links page, for more details. The rallysport had the horsepower of whatever engine was ordered. It was available with every engine. The base L6 was a 230ci/140HP motor; the base V8 was 210HP in the base 327ci engine through mid-69, when it changed to the 200HP 307ci engine.

---

I have a Muncie transmission and was trying to find out more about it. Can you describe where the serial number can be found? I can't seem to find it. Brian Loeffler, 01-Aug-1999

If you have an 1968 or 1969 assembly manual, look under RPO M20 and you'll see the Muncie stamp location noted on the first sheet. The stamp is normally located on the passenger side, turned sideways, in front of the rear flange. There is also a photo in Colvin's 1965-69 book, page 261, Figure 15-7, that illustrates this.

---

On my 1967 Camaro, on the driver's side firewall ear under the fender, there is a "24" in grease pen. What could this mean? Ken Bower, 29-Jul-1999

Line workers often wrote notes on the hardware to themselves and others down the line. Most often it was work-related, to keep track of an item, or an item's order or timing, or some property like color or options. Other times it was simply a note to someone down the line on where to meet for lunch, or even a profane comment about so-and-so's heritage! On a Corvette there is a similar number they called a job number, that indicated manufacturing position. An outstanding source for Chevrolet production references (albeit Corvette, but still great information) is Noland Adams' Corvette Restoration and Technical Guide, Vol. 2. It shows cars coming down the line in order by these job numbers. Perhaps it is the same thing on a Camaro, but at this point we can't be absolutely certain what "24" meant on your Camaro. Other tongue-in-cheek guesses by our distinguished group included, a reminder of the number of cans in a case, or, an eerie and prophetic statement about the eventual prominence of Jeff Gordon in stock car racing. ;-)

---

OK here's one for you... I've been looking for a replacement block for my 1969 Z28. Block casting # needed is a "386". I found one that has a cast-in date of "M-4=68" at the rear of block. The same guy has a set of heads with "M" on them. Question is...what month is "M"?


a-Jerry MacNeish says he never heard of "M" on cast parts,
  only on Delco stuff like starters etc.
b-Another guy says it is an "over-the-counter" block (I
  thought that was "CE").
c-Another guy says it is a Marine block.


Any ideas, or documented cases you know of with an "M" block? Please advise, thanks...and great site!! Mike Malone, 27-Jul-1999

We would expect it would be December. Colvin documents 3970010 blocks with "M" month codes, but it isn't clear why that system was used. The A-L system was most commonly used for castings, with "L" being the letter used to indicate the month of December. Delco skipped the letter "I" and so used "M" for the 12th letter, as you appear to know. That is as much information on "M" month castings as anyone we know has at this time. We have a draft date coding methods summary document that we intend to release sometime in the hopefully not too distant future.

---

From the books I have read, it seems that originally a 1969 SS did not come with dual exhaust, but that it was later added when a price increase was done later in the year. Is this true, or are several publications leaving out dual exhaust in their description of the SS equipment? Mike Helman, 27-Jul-1999

The 1969 SS included dual exhaust, as did the 1967 and 1968 before it. There were a number of changes in dual exhaust over the 1969 model year. SS 396/L34, SS 396/L78, and Z28 models started with chambered exhaust, then it was made optional on 25 Nov 1968, then eliminated. The regular dual exhaust system with transverse rear muffler was applied to SS 350 and SS 396/L35 from the start. When the chambered exhaust system was removed from the baseline of the higher performance models, the SS 350 system was applied to Z28 and the SS 396/L35 system applied to the other 396 models as the normal installation. The chambered exhaust system remained available for a time as option NC8. Starting 15 Apr 1969, Z28 received an additional modification of a pair of in-line resonators. Then on 19 May 1969, in the same announcement that discussed the addition (for an increase in price) of chrome exhaust tips to the standard dual exhaust, the chambered exhaust was eliminated. Most of this is covered in the Chevrolet Dealer Technical Service Bulletin 69-T-8, first released on 17 Dec 1968, then revised on 15 Apr 1969. The announcement of the chrome tips and elimination of chambered exhaust is documented in a Chevrolet memo dated 6 May 1969 by E. C. Kellogg, which is reproduced in MacNeish's 1969 book on page 386.

---

I would like to locate a set of steel wheels/small hubcaps for my 1969 Camaro. What size would be the correct size for a COPO car? Did GM ever use this style and size wheel/hubcap on other cars they may have produced over the years? Michael McMurray, 27-Jul-1999

COPO (Central Office Production Order) 427-engined cars, unless ordered with the ZJ7 rally wheel option or the COPO 9737 sportscar option, came with the same wheels used on 1969 SS cars, the 14x7 XT steel wheel. This same wheel was also used on Chevy II SS in 1969. We haven't looked beyond 1969 to determine later use.

---

I am in the process of putting disc brakes on my 1968 Camaro; replacing the old power drums. I have everything completed but I'm having trouble finding a correct-looking master cylinder. The ones I'm seeing at the parts stores look nothing like original. Scott Senters, 27-Jul-1999

These are available at swap meets if you look closely, on ebay, and several vendors supply them in the rebuilt form. However, your typical parts store will not normally carry the correct style parts.

---

I saw on camaros.com that a guy had a steering column out of a 1970-something Camaro but said that it would fit in any Camaro from 1969-78. I was wondering if this was true. Steering columns from newer (1974-78) Camaros are a lot easier to come by and cheaper. THANKS! Anthony Ragsdale, 26-Jul-1999

This stretches the scope of our charter, but we will note that one of our guys believes it might bolt in, but he thinks that the lever at the base for the column lock is different.

---

I have a 1969 coupe with a standard interior. The answer I need is what color the dash and console should be. The exterior was originally Fathom Green and the interior was Medium Green. The dash had been repaired and was painted medium green, along with the console, but there were some scratches and it appeared to be dark green underneath. Also the carpet seems to be a darker green than the seats and door panels. What color should all this stuff be? One more thing - do you have any idea where to get a rear window defogger grille (for a 1969)? Thank you in advance. Rob Michel, 24-Jul-1999

One of our members had a 1969 in these colors. There were 2 shades of green used inside; the lower metal portion of the dash was slightly darker than the other parts. The console, plastic dash housing, pad, door and side panels were all lighter green. As for not matching, colored interior parts weren't exact and fade differently. A suggestion to try on the rear defogger grille is McHenry Classics, (815) 363-7878.

---

I have a 1967 RS, 327/210HP, with a PowerGlide. The application code stamped on the block confirms that the engine is a 1967 Camaro 327/210HP, with a 2BC and PowerGlide transmission. There is no partial VIN stamped on the block that I can find. How can I confirm that this is the original engine? The FAQ and decode sections of this site have been very helpful. Thank you. David Whipp, 23-Jul-1999

1967 engines, especially, are not infrequently without a partial VIN. The application code was stamped by the engine factory on all engines, but the partial VIN code was stamped by the vehicle assembly plant, and in 1967 the Camaro plants were not sufficiently disciplined to make sure that this was always done. In such a case there is no absolute way to verify engine originality. Best that can be done then is correlation of the assembly date and casting date with the build date, which should all normally be reasonably close, with casting date preceding engine assembly, which precedes vehicle assembly. However the Fisher build week isn't guaranteed to be an exact week since from what we have been able to tell it is a "scheduled" build date rather than actual - engines dated a week or two after the Fisher build week have been found to be correct on occasion).

---

We have a recently purchased 1968 Z28 Camaro with a retrofitted 427. I have been dealing with a local place, Chevyland. I purchased new motor mount towers [frame brackets] and motor mounts as we are installing the 427. Hooker headers recommended the new, and differently placed towers. The towers appear to set higher and slightly over towards the passenger side. They make the headers clear as they did not prior to this fix. The thing that has concerned us is the motor mounts themselves. They are 1/2 to 3/4 of an inch wider/longer than the towers. Chevyland has told me it's OK to use them. I am at odds with this as I think if I do not tighten them up enough to bend them in the towers they will not be securely fastened and will have a tendency to want to slide forward and aft as the brakes and accelerator are applied. Do you see this as acceptable? Have I explained my problem enough to understand? If I tighten them to contract to the towers it will bend them, possibly weaken them and try to separate the rubber from the motor mount. Terry, 22-Jul-1999

The big block engine is offset toward the passenger side on the first-gen Camaro - on purpose. This is done via the frame bracket (towers), as you have found. The Engine Mounting FAQ may also help clarify things. This may be getting close to an "out-of-scope" question for us. The group consensus is that you likely ended up with 1969 frame brackets and 1967-68 mounts. This will result in clutch chatter and driveline vibration. You should be able to use either type as long as they are a matched set (both 1967-68-type, or both 1969-type). The mount should be tight on the bracket. This situation only exists with 1969-type brackets. A 1969-type mount cannot be assembled to a 1967-68-type bracket. Also remember that you will have to offset your transmission attachment as well. If this discussion doesn't answer your question, you will need to check with a competent local Camaro mechanic - or with the non-CRG web forums or email lists noted on our site.

---

What was the original exterior color on my car? It had been painted when I bought it several years ago and am just getting around to restoration. Your chart says the "C" in the "PAINT" section of my cowl tag means Ermine White, but the one in the '67 Illustrated Facts booklet, together with the info shown in the Nov.-Dec. '91 Camaro Corral shows a two-letter code (CC). Should I ignore the second 'C'? Also, the tag on my door jamb has a "DD" over the VIN. Does that mean Nantucket Blue? Please unconfuse me. Thanks!! Al Guim, 22-Jul-1999

Yes - the C is Ermine White. There are two "C"s because the first stands for the lower color and the second for the upper color (in the event of a vinyl top or a two-tone paint job). On first-generation Camaro the colors were always the same, except for convertible or vinyl top, or the few 1969 two-tone cars that were built (two-tone wasn't available for Camaro in 1967 or 1968). The DD on the VIN tag in 1967 stands for "Dealer Delivery" and was a spot where the dealer could stamp the delivery date or affix a Dymo label showing the actual delivery date to the buyer. This use was most often ignored by most dealers, so you only rarely find cars with a label on it in this position. It wasn't continued past 1967.

---

On a '67 (this case is a Firebird), how should the convertible top frame be painted? Also, is there anyone who specializes in Muncie type 3-speed floor shifters? Larry Rosen, 20-Jul-1999

On your first question, if you are talking about paint content, one of our guys with a 1969 Camaro convertible says this about his.

Even after 15 years the original paint was shinier than flat black. Whether it should be 30% or 50% gloss could be debated, but for all intents and purposes semi-gloss enamel looks fine.

You might also investigate a semi-flat black and see which comes closer. Krylon semi-flat works well in many first-gen intermediate gloss applications. We can't say whether this applies to Firebird or not. You should check a Firebird site if you are truly concerned. We can't provide a specific reference for your second request. Perhaps a reader can - and if so - we'll post it in the column later.

---

Great site!! 1) Anyone know of a source for "gold cadmium dichromate" plating for brake boosters? 2) Does ID tag "X33" on a 12437 (8 cyl) car always mean it's a Z28? Mike Malone, 20-Jul-1999

While this isn't an official endorsement, and there are probably other suppliers that also do good work (if you have a favorite restoration supplier, send the contact info in for our link page), here is the experience of one of our members.

Look in Hemmings for ads for "Booster Dewey." Does (or at least used to) all the original plating and coloring types along with chromed boosters and other play toys. Does nice work and prices are at least average. I've got a chromed booster I got from him and he's rebuilt and plated two others for me over the years. Never a problem with quality or schedule.

There is also a simulated plating paint solution provided by Eastwood, but it doesn't seem to get as good a review. On your second question, yes, X33 is always a 1969 Norwood Z28 (with Z21 or Z22). See the decoding link for X codes. However, remember that early 1969 Norwood Z28s did not get this code, and neither did any of the Van Nuys built cars.

---

I recently saw a 1969 Z-10 at the Auburn cruise night, Auburn, California. It is very clean. He had rear disk brakes. I think he said he put them on, but I am not sure. Can you elaborate on this car? Terry, 17-Jul-1999

The 1969 Z10 was a regional promotion that applied Z28 stripes and cowl hood to a SS coupe. The color scheme was similar to the pace car, so it is often now called a pace car coupe. It appears to have only been available in a limited area for a limited time. See the Z10 article. The timing might have theoretically have possible for this Z10 to have factory rear disc brakes, but it is far more likely that they are owner-added, as he indicated.

---

On the portion [of your web site] regarding rally wheels, it states that drum cars in 1967 could not have come with rally wheels. However, I see companies like Classic selling rally wheels for drum cars without the 'disc brakes' logo on the cap. If you could not get them with drums, what other rims/hubcaps were available? Richard Schwindt, 15-Jul-1999

Rally wheels were available from the factory for 1968-69 drum brake cars. These same wheels can be applied to 1967 models, for the many people that are not consumed by complete adherence to factory originality. (Note: CRG merely attempts to define aspects of factory originality - we don't insist that people conform to it. We don't always follow full originality ourselves - but we like to know where we are being non-original.) The wheel options in 1967 follow: The "steel" (non-rally) wheel came in 14x5 for non-SS cars and 14x6 for SS cars. The 14x6 wheel was also available for the non-SS cars as option P12. The rally wheel (only available with J52 disc brakes in 1967) came in 14x5 for non-SS cars, 14x6 for SS cars (or base cars with the P12 option) and 15x6 for Z28. The 1967 rally wheel was only available with the trim ring and center cap. The 1967 steel wheel came with the standard "dog-dish" hub cap, or one of three optional wheel covers: P01, bright metal with a bit of a simulated "mag" wheel appearance; P02, which is a simulated wire-wheel cover; and N96, which is a simulated "mag" wheel cover.

---

I am e-mailing you because I need a little help with a 1968 SS Camaro project of mine. I need a darn trunk lid spring. (As you may have guessed the lid is heavy with the wing installed and is not pleasant on the head) so here is what I could use..... Is there any other car that uses the same type of spring? Firebird? Nova? Anything? Or is the sawed off dowel rod my new trunk prop rod forever? Any help you could give me would be wonderful. Thank you for your time. Brian, 13-Jul-1999

Brian - your email bounced, so we hope you read this to find out about your "darn" trunk lid spring - we hope this saves your head. The trunk "spring" is in the form of a pair of torque rods. Slip a 1/4-inch diameter pipe over the end of each rod and move it to the farthest forward adjustment slot. That will provide the most opening force available. If the rods are missing (can't see why anyone would ever take them out) then the only hope is a junkyard. Nova is not the same (at least not in 1969), but Firebird should be.

---

I just replaced my 10-bolt rearend in my 1968 Camaro with a 12-bolt. I used a new set of lift bars instead of the old lower spring mounts and need to know if the drivers side shock is mounted on the front or rear of the axle. Scott Senters, 12-Jul-1999

The 1968 driver's side shock attaches behind the rear axle. The passenger side shock attaches in front of the rear axle. This was a change from 1967, when both attached in front of the axle, which contributed to wheel hop on hard acceleration. See the 1968 assembly manual, UPC 4, Sheets B2 and B3 for more detail.

---

What are the correct part numbers for the carburetor and intake manifold for a '69 327 2BC Camaro? Also, is the air cleaner the same for this car and a 1967 Camaro 2-barrel air cleaner? Jay Pastor, 11-Jul-1999

Intake was a cast iron 2-barrel model, 3927183. Carburetor was a Rochester 2-barrel, of the following models:


A/T      7029110
A/T A/C  7029112
S/T      7029101
S/T A/C  7029103


Air cleaners differed significantly between the years. 1969 air cleaner for standard transmission is 6484597, and has a PCV inlet on the side connecting to the passenger side valve cover. Air cleaner for automatic transmission was 6484578 and has a heat valve in the snorkel. The same air cleaner was used on the 307 in 1969. The base 1967 V8 air cleaner was 6424490 or 6423508, without PCV. With the K19 smog equipment it was 6424803, with two smog inlets. With K24 PVC only it was 6424491 (dual inlet) or 6424802, (single inlet) with inlets in a different location from 1969. While we're at it, let's finish listing all of the 327/2BC air cleaners by summarizing for 1968 as well. These were 6484218 or 6483653 (there is a typo in the assembly manual) with S/T. And 6424425, with A/T.

---

I have a 1967 RS/SS 350. Did the L48 350 come with factory installed chrome valve covers? Also, were there any factory applied decals/stickers on the valve covers? Fred Thom, 10-Jul-1999

Yes to the first question; the 1967-68 SS 350 came with factory chromed valve covers. The cover was embossed in 1967 with "Chevrolet" in script. In 1968 the cover was plain - without the embossing. However, in both years they were chromed. As far as decals, the "engine size" decal commonly seen on other models and years was never used on first-generation Camaro. However, there were engine plant decals used. Car Life 12-66 & 3-67, Car & Driver 11-66, Hot Rod 1-67, and Road Test 12-66 all did feature stories on the Camaro SS 350. All Camaros used in these reviews had chrome script rocker covers, chrome air cleaner lids and chrome oil fill caps. We have seen plant decals (such as Tonawanda, Flint, etc.) on the ends of 1967 script covers but none appear in these photos. Valve covers from Tonawanda engines normally had the "Tonawanda #1" engine sticker on the front top of the passenger side valve cover. We think that all engines (big and small block) made in Tonawanda normally got these stickers, both chromed and painted valve covers, always on the passenger side front. However, the absence of this sticker from the cars in the 1967 model reviews contradicts this, so we can't yet be positive about what was normative for the 1967 model year. A similar decal for the Flint engine plant is known to have been used on some 1967 Z28 engines (which were all produced at Flint). In 1969, according to the showroom album, the finned bright metal valve covers, chromed air filter cover, and chrome air cleaner nut were supposed to be part of the SS option as bright engine trim. However, all 1969 SS 350 Camaros included plain painted steel covers, no decals, with a chrome air cleaner (with the non-ducted hood) lid. 1969 SS 350 road test cars confirm the plain covers. The finned valve cover was used on the 1969 Z28. There is no flat spot on this cover that would allow a decal to be applied. A crossed-flags logo is included in an insert on this cover, but this really isn't a decal.

---

I recently bought a 1968 Camaro. The car came with all the RS equipment but the cowl tag was stolen off of it. The VIN number is still there. Is there any way that I can find out information about the car, like if it is really a RS, without the cowl tag? Doug Gray, 10-Jul-1999

The 1968 cowl tag didn't have a lot of information on it. It confirms if it is convertible or coupe, tells you (again - also on VIN) where it was built, adds the body number and build week (which can be estimated from the VIN), and provides the interior trim and exterior colors. If your car has any original materials left you should be able to guess the interior trim and exterior colors. If you have any other documentation like Protect-o-plate or window sticker or invoice, then these would also help. If the car has been heavily modified though and you have no other documentation, it can be tough to confirm details. The RS-ness of the car is best assessed by getting a factory assembly manual and comparing the details of the RS option with what you see on the car. Look especially hard for the things like the firewall penetrations, headlight switch with the vacuum control, and the tailpan backup light holes.

---

From what I have gathered there are three distinct groups of Pace Cars for 1969. The "Official" cars were the ones that actually participated at race. Two of these paced the race, one other was given to the winner and the others were for the dignitaries. The second group is the "Festival" cars which from what I understand are the one used in the parades. The last group would be the "Replica" cars that could be purchased through the dealer and could be optioned pretty much as the buyer wanted (with certain exceptions). Are these correct assumptions and is there anyway to determine what category a particular Pace Car falls into? Are there any numbers known for the different categories? I have seen the total production of cars put around 3600+ but unable to get a good grasp of the break down. I am looking at acquiring a car that is stated to be an "Official" Pace Car and I am trying to gather as much information as possible. Any help would be greatly appreciated. Roger Collette, 10-Jul-1999

See the Pacecar article.
In our discussions on this, CRG believes this approach is slicing hairs where there's no need. It sounds like an attempt to elevate the status of a particular car in order to effect a sale. It does add a little history to have a replica that was at the track, but such a car is still a replica. And there were replicas used at Indy beyond the "Festival cars", namely the Courtesy cars. Both Festival and Courtesy cars are replicas and differ from other replicas only by having been present at or near the track. Chevrolet has claimed 3,675 Pace Cars for the 1969 model year. The 2 pace cars used to pace the race had 4-wheel discs, 396ci/375HP engines with HD automatic transmissions and other modifications performed by the Tech Center. Both still exist and have sold for substantial prices. The Pace Car presented to the winner was a replica and driven daily for years. It is rumored to have been exported out of the U.S. in the '70s. The 50 or so replicas at the Speedway used in support of the race (the "Festival" cars) were ordered by the zone and used for different events. In addition, another 80 or so replicas were used as courtesy cars for other uses. Many of these VINs were recorded by an individual at the Speedway and published in an issue of the Camaro Enthusiast some years back. These cars were all built at Norwood during 02D and have VINs ranging from N607547-N610726. These were not identically equipped; some were 350s, a few 396s. After the race they were wholesaled to any dealer that cared to bid on them. Pace Cars with a VIN in that range but not on the list have been advertised as "Festival" cars; the reasoning being it "must" have been there. (However, this is faulty reasoning.) Pace Car values are largely determined by optional equipment and condition, just like most other 1st-generation Camaros. Since so many of them were 350/automatics, 396 cars seem to be a bit more valuable (and big-blocks often command a higher price anyway). There were some 375-hp replicas built and they are quite valuable provided there is some factory documentation with the car. But it isn't that tough to swap engines and the buyer should beware of fakes. It is our opinion that Festival and Courtesy cars do not warrant a significant difference in price from the other replica cars. Of course, feel free to disagree. It is just an opinion.

---

I was wondering whether or not there were non-SS big block cars that came from the factory? I have a 1968 Camaro with a VIN 124378N401543. My cowl tag reads:


 03C
 ST 68-12437 NOR  101074
 TR 719      U2  PAINT


The car has a 12 bolt posi (3:73), manual drum brakes, big block heater core and HD radiator. The original tranny is gone (manual, 4-speed?). I remember reading somewhere that all SS came with power brakes. Any information would be useful. Thanks. Chris Allen, 5-Jul-1999

No, there weren't any non-SS factory BBC Camaros. However, nothing you've provided indicates that it couldn't be an SS396 (though you've still got work to do to prove it). Manual drum brakes were acceptable on SS in 1968. See the 1968 Visual ID HyperTable. Do you have an original engine? If so, what is the stamp and the casting number and date? What are the rear axle numbers. Do you have an original tire sticker in the glove box? Any original paint left on the car? Is the tailpan black - or is there any sign that it once was black? Look at the rest of the information in the table at the site, and read the section on decoding.

---

I have a 1967 Camaro, with several questions.

I'm not sure if the engine is original. Casting number is #3858174, block ID number is F0302EB. What year and what car did this come from?
The cowl tag is confusing, it reads as follows:


   07A               C22
   ST 67-12637 LOS-20737  BODY
   TR 711-Z         G-2   PAINT
   W 2EMG 3L


The VIN is 124377L163806.
The car also has a 12-bolt posi, with multi-leaf springs.

Doug McFall, 2-Jul-1999

In the same order:

This is a 1966 or 1967 Chevelle 327/275HP standard transmission with smog. Colvin has the block only applying to 1966, but I wouldn't take this too literally without checking the engine casting date, which will verify the year. It was assembled in one of the Flint, MI factories on March 2nd (of whatever year).
You can decode this tag at the decoding page. It is a coupe assembled first week of July 1967 in Van Nuys (LOS). It has a Gold custom interior, Grenada Gold exterior with black vinyl top. Tinted windshield, A/C, PowerGlide transmission, console, Rally Sport. It is neither a SS or a Z28, and the original engine was either (from the VIN and lack of other cowl tag codes) the base V8 327 (LF7) or the optional 327, the 275HP L30. The engine you have in it is an L30 engine (but not the original).
This is a V8 coupe assembled in LOS - near the end of the 1967 build.
This rear axle would not be original to this car. Check the casting date to find the year and the assembly code to determine the application.

---

I recently bought a 1967 SS/RS convertible. The back tail lamps are all red with no backup lamps. Also, it does not have backup lamps on the back panel below the bumper. Is this correct? I have seen some standard SS's with the extra backup lights below the bumper and I've also seen RS/SS with no backup lamps below the bumper, but the lens are white (for backup) and red. Clearing this up would be very helpful. Thanks. Richard Schwindt, 01-Jul-1999

This is a common question and should be in a FAQ. So - this will be the start of what will eventually be a new FAQ. Solid red tail lamp lenses belong with Rally Sport (RS) and only with RS. White/Red tail lamp lenses are for non-Rally Sport models; the White side of these lenses contains the backup (reverse) lights for the non-RS configuration. Since RS tail lamps don't have the backup lights in the main housing, RS backup lights are housed separately in cutouts in the lower portion of the tailpan. For your car, either the RS tailpan has been replaced (perhaps due to an accident or to repair rust) without provision for the original RS backup lights, or else it is not an original RS and when it was converted to a RS the conversion was incomplete and the tailpan backup lights weren't installed. Extrapolate this to the other cases you mention. Regardless how it was done, these cars were modified (inconsistently) to a non-original configuration.

---

I have seen parked, very close to my home what appears to be a 1969 Z28 convertible. The car is rusty and need of serious restoration, but is driven by whoever owns it. I have only seen it in the parking lot of a supermarket. It is hard to believe it is a fake, since you indicate that there are no 1969 Z28 convertibles on the road. It is a 4-speed and has all the Z28 badging, to the best of my limited knowledge. Is this vehicle for real or not? Bert Kanne, 01-Jul-1999

Not. There was only one 1967-69 factory convertible Z28 built, a 1968 that was special built for Pete Estes, then head of Chevrolet. Z28 badges are easy to install. The car you see could be a real Z28 that has had the roof chopped off, but it didn't leave the factory like that. Of course we're always open to interesting stories like the 1968 convertible Z28, but documentation is required before we will believe these stories, since we hear similar things on a daily basis.

---

This may be somewhat sacrilegious (so please forgive me) but I have a '68 SS with a standard interior, and I would like to replace it with a custom/houndstooth. I have heard "rumors" that the custom rear side panels will not fit unless you have the fold down seats because of the armrest protruding to far into the seat back. I have also heard that the front bucket seats on the custom interior differed from the standard? Are these true? Thanks and aloha. Dexter S. Kekua, 25-Jun-1999

Ahh - a first-gen Camaro in Hawaii. Must be nice. To get to your question requires some background, we think. There are two first-gen Camaro rear seat widths: the standard 55-inch width (when measured at the middle of the bottom seat), and a narrower 48-inch width. All 1967-69 convertible rear seats and all 1967-69 fold-down rear seats are "narrow". All 1967-69 coupe fixed (non-folding) rear seats are "wide", except with the 1967 coupe custom interior. The distribution of rear seat widths is shown below in table form:


                         Rear Seat Width

               convertible                       coupe
         custom        standard         custom        standard
      folding fixed  folding fixed   folding fixed  folding fixed
      ------- ------ ------- ------  ------- ------ ------- -----
 1967 narrow  narrow narrow  narrow  narrow  narrow narrow  wide
 1968 narrow  narrow narrow  narrow  narrow  wide   narrow  wide
 1969 narrow  narrow narrow  narrow  narrow  wide   narrow  wide


1968-69 coupes with Z87 custom interior and a non-folding rear seat did not have armrests (the 1967 custom interior had the armrests), so these seats are the same width as the standard coupe interior. 1967-69 convertible interiors, 1967-69 fold-down rear seat interiors, and 1967 custom interiors have a rear filler panel armrest with built-in ashtray and therefore use a narrower seat bottom. 1967-69 custom doors require the release mechanism used with the custom interior, and the window regulators - as the shaft for the window crank is longer than standard. Custom doors are also drilled in the frame to allow attachment of the side pull strap. 1968 doors (standard and custom) have the lock button at the rear edge of the door whereas 1969 has it much farther forward; this moves the location of the lock hole in the door side panel and changes the OEM part number - other than this the 1968 and 1969 custom door panels are the same. With this background, to hopefully answer your specific questions, a rear custom side panel should fit a non-folding seat car. And in the front, there is no difference between custom and standard seat frames, but custom interior bucket seats use a different foam pad than the standard seat.

---

I'm trying to locate an original 1968 power top switch, but have not met with much success. Would any other power top switch from another type, like an Impala, work, or could I make use of a window switch? Flash, 25-Jun-1999

The 1968 switch is 3897314 but there are no on-line part number hits for it. The 1969 switch is 3959230 and has several places reporting it in stock (see below). The 1969 switch is completely different than 1967-68. The 1969 is a toggle-type switch that is mounted in a bezel on the dash, looks just like a rear defogger switch. The correct 67-68 switch is rotary and mounts on the bottom of the dash cluster. The 1969 switch is the same as the wagon power rear window switch. GM serviced a "generic" black toggle-type power top switch for a while. In fact, there is a 1969 switch listed on ebay right now - so I'm going to borrow the picture to show that one. Click here to see the 1969 version of the switch. While the 1968 parts search was empty, the 1969 part search shows the following:


Stocking General Motors dealers for parts:
3959230 

Qty  Dealership           City       St    Direct       National
1    L.E.S. AUTOPARTS     DAYTON     NJ    732-329-6128 None 
1    CONNECTICUT GM PARTS DARIEN     CT    203-655-8529 None 
1    CHICAGO AUTO         CHICAGO    IL    773-254-2414 800-313-2414 
1    ROBERT DENOYER CHEV  HOLLAND    MI    616-396-2333 None 
3    CLYDE REVORD MOTORS  EVERETT    WA    425-353-3199 800-729-7573 


---

What was the purpose for the dip/notch on the top right hand side of the big block 4 speed crossmember? I have got two of these crossmembers and they are identical except one has the transmission mount holes drilled in the same location as a small block 4 speed/PowerGlide crossmember. Ted Skolsky, 25-Jun-1999

We took a few days to discuss this, and guess what? We don't have a clue why any of these notches are in the various crossmembers. We did a lot of guessing, but that is all it was - guessing. If anyone knows for certain - clue us in. Sorry we couldn't answer this one - but hey, even a group of people doesn't know everything. Thanks for the question - we'll keep it in our thoughts as the research continues.

---

I have a 1969 Camaro with power brakes, A/C, SB 307. I want to replace the engine with a big block. Besides the coil springs, are their any mods/problems with this? Someone told me BB Camaros did not come with power brakes because the brake booster was in the way. Is there any truth to that? Joe, 25-Jun-1999

Answering the last question first - all 1969 SS's, including 396s, came with power front disc brakes. Besides the front springs that you mention, other significant differences between the 307 and the 396 in the front of the car include the frame brackets/mounts, the heater box and heater core, and the radiator/shroud. Also, all 396s had either a Muncie or a THM400 transmission, a 12-bolt rear axle, and unique components for transmission crossmember, power steering pump, and the underhood portion of the air conditioning box (for 396s with A/C). There are a number of other differences that we can't cover in this brief summary. If you are considering a modification like this we suggest you get some additional help. On-line information is available by participating in the f-body-classic email list and/or one of the on-line bulletin boards. See the 1969 Visual ID Table for more information.

---

I have ran across our cowl tag and need some help with it. Here it is:


12 E     E
ST 67-12437     NOR   62159
TR 760-Z    G-G   Paint
2SR    5 Y


What are the 2SR and 5 Y for? Thanks. Amy, 24-Jun-1999

These are option codes that you can decode yourself at the 1967 Code section of the Decoding FAQ Page. To help you, 2S is a rear antenna and 2R is a rear speaker. 5Y is deluxe seat belts.

---

How come my cowl tag number does not match my VIN number? My car is a 1969 X11 code car. The number on the cowl says that the car is a V8 (12437) and the number on my VIN says that it is a 6-cyl. (12337). Which one is correct? Anthony, 24-Jun-1999

Your email bounced, so hopefully you will look here for a reply. See the Decoding FAQ Page and especially the FAQs on cowl tags. The VIN rules - your car was originally a 6-cyl. All 1969 Camaro coupe cowl styles were set to 12437 regardless of the VIN or the actual engine. (1969 convertibles had the style fixed at 12467.)

---

In the factory assembly diagrams there are some braces at the rear of the engine compartment from the wheel well to the lower part of the firewall near the frame mounts which are not on my 1968 Camaro convertible and have not seen them on any other Camaros. Did they delete these during production or have they been removed by someone? If they are missing where can I get them? Brian Leoffler, 23-Jun-1999

A reference would be helpful - but if you're talking about 1968 assembly manual section UPC 11-13, sheet B3, parts 3919135-6, find number 2, this is on all cars and should be easily obtainable from anyone that is parting a car out. If this isn't the part you mean - let us know what page you're on.

---

I have a 1968 SS396, L78 with an M-22 (confirmed). A "Camaro guy" here informed me that all SS's came with consoles - mine doesn't have one. Is this true? Also I found an interesting item at the swap meet - a '68 console with a clock in the place of the console gauges. It has a PN 3921411 and the clock is stamped with the date "AUG 19 1967". ID on the clock makes the manufacturer as "GENERAL TIME CORPORATION, PRECISION PRODUCTS DIV, DEARBORN MICHIGAN". I have never ever seen on of these live or in print and it is an option I can't find in the GM Resto Guide. What have I got? (I bought it for $25 - including the console.) Dexter S. Kekua, 22-Jun-1999

No - a console would have been optional on this car. What was rarer was a non-console, floor-mounted THM400, which was available only for a period of time in 1968, but we have yet to actually see one. The separate clock was option U35 - though I didn't check the part number. It wasn't available in this form with the gauge package since the package had an electric clock included with the Tic-Toc-Tach in the instrument cluster.

---

I can't locate my engine code anywhere. Can you tell me if it is an original 1969 Camaro engine? The code number is TO424DC. When I bought the car the seller told me it had the original drive train in it. Thanks. Wayne Anthony, 21-Jun-1999

This could be an original engine but you haven't given us enough information for us to be more positive. This DC-coded engine was used on 1969 307ci/PowerGlide drivetrains for Nova, Chevelle, and Camaro. It was built at the Tonawanda, NY engine plant (the "T") on April 24. The year was probably 1969, but the DC code was also used other years on other engines - including a 1965 283 engine, so to be thorough you should look for the casting number (probably 3956632 if it is a 307) and casting date (something like D209 - which must be prior to the 24 April assembly date). If you pull the motor from the car you should clean the block and look for a partial VIN stamped somewhere on the block; if not on the stamp pad then near the oil filter. More details are located in the Engine Assembly/Application Code FAQ and in other FAQs on the same web page. If you don't find a partial VIN then the block should at least be a 307 casting and the casting/assembly date should be consistent with the vehicle assembly date on your cowl tag.

---

This question pertains to my 1969 Z28. My car has a 23-inch radiator (core size left to right) with the correct Z28 shroud, part number 3938615 which appears to be designed for the 21-inch radiator since it is about 2 inches short of covering the radiator core on the drivers side of the car. My questions are these:

Was the 23-inch radiator an option for the 1969 Z28?
If so, was a different radiator shroud used for this application and what did it look like, etc.?

Larry Rivelli, 21-Jun-1999

There was no specific heavy-duty (HD) radiator for Z28. The Z28 radiator was already an upgrade from a 21-inch 2-row core radiator to a 21-inch 3-row core radiator. This was the same radiator used as HD on the other small-block standard transmission models for 1969.
There was only the one radiator shroud for 1969 Z28, and it was for the short 21-inch style.

---

Could you tell me just what kind of Pace car I've got? Just how many were built?


VIN: 124679N641680
ST 69 12467 NOR324
Z11


Mike Z, 21-Jun-1999

Z11 is the code for a Norwood-built pace car replica. There were 3675 recorded as built. There are several characters missing from your cowl tag transcription - for example, the body number is truncated, and the date code is missing.

---

On my 1967's cowl, on the drivers side, there is an X stamped into the sheet most likely to add rigidity to that section. In fading orange paint are the letters P (directly above the x), B (to the right of the X above center), and T (to the right of the X below center. They are stenciled. Do you know what they mean? Steve Barndt, 21-Jun-1999

It is generally accepted that these are inspection stamps for Paint, Body, and Trim. As far as we know these were used only by the Norwood facility. We have never seen these on Van Nuys (LOS) built cars.

---

I bought a 1967 Camaro convertible. It does not have the I.D. plate on the firewall. I'd like to know what you can tell me from my VIN: 124677N103181. I know it came out with a V8 but can you tell me which V8 it was? Javier, 21-Jun-1999

From what you've told us there are three possible V8s. If it is an SS car then it was (because of the early build, before the 396 was released) a 350. If it is not an SS then it is a 327, either the LF7 2-barrel model or the L30 4-barrel model. As early as this car is it is really impossible to tell which of the 327s it could have had. An approximate date of build for this car would be late August 1966. If you find more background data, especially on the drivetrain, you can compare it against the columns of the 1967 Visual ID Table.

---

Did the factory install tri-power carbs any ZL-1s? Art, 20-Jun-1999

There are none documented nor even any rumors of any such cars that we are aware of. Certainly many types of modifications could have been performed after a vehicle left the factory.

---

Is there any difference in ride or handling between the 4 or 5-leaf springs? Why did GM put the 4-leaf springs on Z28 instead of 5-leaf springs? Is there a difference in ride height? Dave McBride, 18-Jun-1999

[This was asked on the Camaro Institute (CI) and answered by us there. Since CI has no archive and we felt this question was important to others, we repeat it here.]

There was not a five-leaf spring. There is an entire family of five-leaf spring designs (in 1968-69, only monoleafs were used in 1967). The family covers different spring rates, arch heights, and different maximum load design points. Springs were selected to create an equivalent vehicle position or stance in the loaded condition, depending on the gross weight of the vehicle. The one exception was the G31 spring series, which, as Heavy-Duty (HD) springs, were specifically designed with a higher arch and a higher unloaded ride, allowing them to deflect more on loading - resulting in a higher loading capacity. The G31 springs purposely cause a vehicle to sit up higher in the back until it is loaded with extra weight. However improper vehicle stance will also occur if the wrong spring is installed.
The (1968-69) Z28 was not limited to the four-leaf spring, nor was a (1968-69) non-Z28 prohibited from having a four-leaf spring. We have documented five-leaf Z28s and documented 4-leaf non-Z28s in our data, and the factory spring tables confirm that this was intentional. In particular, the F41 option on the 1968 L30/M20 resulted in the four-leaf spring being applied to a non-Z28. The 4-leaf spring was lighter but also with reduced resistance to wind-up and decreased damping. If the weight of options so warranted it, the Z28 was equipped with certain five-leaf springs.

A detailed CRG Research Report is in preparation but it is coming along slowly due to the enormous amount of time required to do it right, and due to competing needs from other projects and from the CRG web site.

---

I have a 1967 RS Camaro (327/4spd). Were there any stripe options available that year on the RS (for example, bumblebee or Z28 type)? Were rear multi-leaf springs installed on any of the 1967 Camaros (327/275HP/4-speed or 396 SS)? I'd like to improve the handling of my Camaro, I've heard that a 1986 Camaro steering box will fit with hose modifications and will improve handling, any recommendations? I'll be purchasing rally sport rims for the car (it has disc brakes) are the short or shallow caps with disc brake stamp correct for this year? I'm considering 15-inch rims with low profile tires (again for handling), any recommendations on wheel or tire sizes? Mike Hinshaw, 17-Jun-1999

In the same order you asked them: Bumblebee (RPO D91) was available on 1967 non-SS cars circa March 1967. The RS had its own fender stripe. The Z28 rally stripe was only available on the Z28. No. Sorry - we've decided not to address modifications - although we will point out differences between two different models (like the differences between small-block and big-block models). We suggest you pose the steering and tire questions to one of the email lists or discussion groups. The 1967 rally wheel center caps (disc brake cars) included the words "disc brakes" on them.

---

I am original owner of a '69 Camaro Pace car. 20 years ago I restored the interior seats myself and had no problem. This car has been a show car for the last 15 years. Now, due to a smoke damage from a house fire, I am replacing the seat covers again. This time a professional is doing the installation. The front seats went on fine, but we are having trouble with the rear. The center which covers the hump on the old seat covers tapers from 9-1/4 inches to 10 inches in the back, the new seat cover is the same front to back. This does not allow for sufficient material at the rear to cover the hump. I have spoke to the manufacturer, they checked their pattern and say this is correct, it should be the same front and back. Additionally they have sold 86 (?) Pace Car sets in the last 18 months and no one else has complained. There was insufficient material to create a smooth finish. Did GM use two different rear seats in the Camaro? I know mine is original to the car. I'm at a loss and so is the manufacturer. I bought from Classic Industries; the seats are manufactured by Parts Unlimited in Kentucky. The seat covers from 20 years ago were purchased from National Parts Depot and they were the correct fit. Joyce Williams, 10-Jun-1999

(This response required a little research, so it appears out of order in the date sequencing.) Both PUI and Classic are good suppliers. However they have slipped-up on this one. The location you're talking about is horizontally across the seat bottom where the vinyl material separates the two houndstooth inserts, and yes, it is supposed to be wider at the back than in the front. Two of our members measured original 1969 Camaro Pace Car rear seats, as well as a repro cover sold by National Parts Depot (manufactured by CARS). All three were essentially identical, being 9 to 9-1/4 inches in the front and 10 to 10-1/8 inches in the back, as you said. It is wider in the rear to make up for the circumference of the arc of the hump so that the pieces all line up at the seat bottom seat back intersection. Since the width of the vinyl section on the seat back is also 9-1/4 inches - if the section over the hump isn't wider than the front edge then the inserts will be crooked, and they won't lineup with the seatback inserts. The center vinyl section is made up of three pieces with two rows of parallel stitching joining the three sections together. The center piece (right on top of the hump) is a rectangle with the sides parallel to each other and is 5-5/8 inches wide at both the front and the back, the two edge sections (one to the right and one to the left of the center section) are slightly wedge shaped, the front edge is 1-13/16 inches wide and the back is 2-1/4 inches wide (measured from the houndstooth welt to the center of the parallel stitching that joins the 3 vinyl sections together). Why was CARS successful when PUI wasn't? We don't know, but we talked to Steve Riethmeier at CARS to see what made their covers fit. He said they make their patterns directly from original seats. Hopefully, PUI will make the necessary corrections as this is brought to their attention. (However, while we're on interiors.... Related to the 1968 Ivory interior question raised previously, both PUI and CARS (and possibly other suppliers) have been steering people wrong on 1968 Ivory interiors. The early 1968 interior called 730 Pearl Parchment is what is in the dealer albums and is the common offering in catalogs, but it doesn't match the color of the mid-year change to 716/711 Ivory. For door and quarter panels, people with 1968 Ivory interiors should be able to use the 1969 Ivory custom panels, which differ only in the location of the door lock hole. While we were talking with Steve at CARS we had him check; the door panels that are most often resold by the various suppliers are made by Al Knoch Interiors and have punchouts on the reverse side so you can select which hole location (1968 or 1969) you want to use. The issue of 1968 Ivory seats and other parts remains to be dealt with.) Note: All of the suppliers mentioned in this response are referenced on our links page.

---

Can a 1969 RS/SS 396 Camaro have an X11 code? This is the VIN information:


VIN: 124379N587649
ST 69 12437 NOR24892 BDY
X11 01C


Chris Cognetta, 16-Jun-1999

X11 indicates the Z21 exterior style trim option for non-396, non-Z28 cars. A few very rare exceptions are seen for a few COPO cars - but they technically aren't 396 cars - but rather special order 427 cars (which normally started out on 396 bodies, but a few X11 small-block bodies were used in a pinch). See this link for more details. Unless your car can be shown to be one of these rare COPOs, your car (combining the information from the VIN and the X11 code) is a small-block V8. What type it originally and specifically was can't be told from the information you've provided. We'd be glad to help you investigate further - but realize that we may not always be able to get to the bottom of the original configuration on many modified cars without documentation. (Turns out Chris was considering the purchase of this car, but he had not yet completed the deal, which he declined.) For those interested in X11 cars, please see the details in this link. Contrary to some bad advice being published in a print magazine, the X11 code could be any style-trim car as long as it was non-396, non-Z28. This means an X11 car can be anything from a base L6 to a SS 350, or anything in between, including L22 optional L6, base V8 (327 or 307), LM1 350, or L65 350.

---

I've been looking at numbers on my 327 and I found 3903352 and K226 on the left rear. I also found T11 and conv-1 on the right rear. On the front by the head on the right side I found stamped TI202MM. My cowl tag says my car was built in Norwood 1st week of December. Can you please decode my engine for me? Thank you for your help. You guys are great! Keith W., 15-Jun-1999

This is a 1967 327 casting, and K226 means it was cast Nov 22, 1966. T1202MM means it was assembled in the Tonawanda, NY engine plant on Dec 2 (1966) and MM is the code for a L30 engine with a PowerGlide transmission, which is a 327/275HP 4-barrel carburetor engine.

---

I have a 1967 convertible that is missing the rear cocktail shakers. Is there any way to eliminate the high speed vibration other than locating used ones to install? I've already tried frame connectors. THANKS!!! Rod Burton, 15-Jun-1999

The "cocktail shakers" are vibration dampers that were installed due to an overly flexible body in the convertible model because of the loss of the roof structure. While some reinforcement was added to the convertible rockers and floors - it wasn't enough to prevent vibration problems. The dampers are basically a large can with a suspended mass on a spring in a viscous fluid. They were tuned to a resonant frequency of the convertible that was especially disturbing. When the body was subjected to loading that would otherwise tend to make it oscillate, much of the energy was instead absorbed by the motion of the masses in the cocktail shakers - which reduced the vibration in the convertible body. At about 25 pounds each, and one in each corner, they added nearly 100 pounds to the weight of the convertible. Theoretically one could add a large amount of structural stiffness (subframe connectors aren't enough) back into the mid-section of the body - but practically speaking that isn't feasible in an existing body. New models such as the C5 Corvette are designed as convertibles from the start to ensure adequate structure - so they don't need these design "kludges". You could also design and build your own vibration dampener, but that would require knowledge of the structural frequencies of the body to be damped, not to mention knowledge of how to tune a damper. So you're better off trying to find an original set. If you keep your eyes open you run into these every once in awhile - and sometimes still at a reasonable price.

---

I recently bought a 1967 RS/SS Convertible and want to make sure of the SS/RS emblems. Correct me if I'm wrong....SS (or SS 350 for early models on grille), SS between bumblebee, SS350 gas cap, Camaro on nose and trunk lid, Flags and 350 emblems on each fender. Am I missing anything? Thanks! Richard Schwindt, 15-Jun-1999

Externally you've got about everything. The gas cap emblem followed the grille in that it showed SS350 early and SS late. Have you included the "camaro" side fender emblem? Internally there was an SS emblem on the horn button of the standard and custom interior steering wheels - but the N30 deluxe wheel and the N34 wood-grain wheel did not have the emblems. We have run into apparently original early 1967 396 cars that have base car horn buttons instead of SS. We are trying to better understand the time period of this - perhaps the SS horn buttons were not ready in time for the first SS-396 units - so they used the base units instead of the more obviously inappropriate SS350 logos.

---

Is there any information available to help me decode my 1968 Camaro build sheet? Scott Reutter, 13-Jun-1999

Good question Scott. We've got nothing in formal documentation yet. We know what much of it means - still searching for other items - depending on the model and option. This is an on-going project for us. We'd like to get a copy of your build sheet to help this project along. If you can send it we'll point out the obvious items that we already know about. Anything that requires research will have to wait though.

---

The rear seat belts in my 1968 Camaro have been cut off years back however, I can see there were two straps connected to the two inner bolts on each side and one strap connected to the end bolts on each side. Can you tell me the order that the belts are bolted in. I have acquired new belts and I am not sure what the order is. One of the belts has two buckles connected to two straps with a rubber boot over the end that bolts to the floor pan. Does this setup go on the right or left inner bolt? What is the arrangement on the other inner bolt? Scott Reutter, 13-Jun-1999

1968-69 Camaros have two buckles (part with the button) on the passenger side inner bolt, one of each (one buckle one male half) on the drivers side inner bolt. The outer bolts each have a male half on each bolt to make up the set.

---

I replaced the turbo 350 trans in my Camaro with a turbo 400. I need to know how to wire up the kick-down switch. I have the pedal mounted factory switch from the donor car, but don't know how to wire switch to transmission. Any help you can give me would be appreciated. Brian Benson, 12-Jun-1999

Most THM400s have a two terminal connection on the drivers side (some only have one terminal) that goes to a solenoid valve for full throttle kickdown. The switch attached to the accelerator linkage has a normally open contact that closes when the throttle reaches full open. The solenoid inside the transmission is wired so that 12 volts is applied to one terminal and the other wire is connected to the switch. If the switch at the accelerator linkage has two terminals then one goes to the transmission connector and the other terminal is connected to ground. If it only has one then just make sure the switch is connected to a good ground. The connections will work just as well the other way also. You can connect 12 volts to one terminal on the switch, connect the other terminal to one of the wires going to the connector on the transmission, and a connect the other wire from the connector to ground. Since you are just energizing a solenoid inside the transmission it doesn't matter which wire is hot and which is ground as long as there are two terminals. If there is only one terminal then that would require +12 volts from the switch and it will ground internal to the transmission somewhere. 1969's get their power from the hot lead to the wiper linkage.

---

I own a 1968 Camaro convertible with an interior cowl tag code of 711. This decodes to white (ivory) custom buckets and I have the ORIGINAL interior and the seats are ivory in color as are the original door panels front and rear. The dash, carpet and window pillars as well as kick panels are black. My question or problem is this: These original ivory/white custom door panels and seat covers are in need of replacement and every single national supplier I've called (PUI supplied) tells me that they didn't offer an Ivory colored deluxe package for 1968 and therefore their vendors are not making the color! Can you believe it! They're all trying to sell me some pearl parchment color which is NOT correct for my car. What advice do you have. I even see your 68 interior cowl tag color is 711/730 parchment. Have you fallen into the same trap? Please let me know what you think. Thanks. Great site by the way!! Bill Hackett, 12-Jun-1999

We can't speak to what is available for that color in repro. We do know of a 1968 with the 716 Ivory/Houndstooth that has recently become available for parting out - and the door panels are the same - and supposed to be in decent shape (though you be the judge of that). I'll put you in touch with the owner. We have the listing as 711/730 because the name and code changed from Parchment to Ivory for what was essentially the same type of interior. Frankly, we weren't sure if the shades between the two were much different - but apparently not, from what you say. In the process of answering this question we reviewed the interior color table. We see the table it isn't clear, plus we realized the the 716 code was left off altogether - so we've put out an update to the table that is hopefully an improvement. If the suppliers don't believe you - refer them to us. The parts manual shows the 1968 730 and 711 interiors as totally different. Not that that helps you - if the suppliers don't have it then they can't help you, but you should contact PUI directly to make sure the resellers aren't missing something. Even if it isn't currently made, if there was enough demand for them perhaps we could do something about it.

---

I am interested in purchasing a 1967 SS/RS, but have one question about the car. It does not have the original motor, but still has a 350. However, the front brakes are drum. Is this correct? I thought SS cars had mandatory disc brakes in the front. Richard Schwindt, 11-Jun-1999

It is not necessarily incorrect, but we can't say that it is an RS or SS or RS/SS from this one item. You would need to look at all the rest of the car in context - including other numbers. Front discs weren't mandatory on SS until 1969 model year, so this could be a SS/RS - but you should check everything else.

---

Can you give me a rating of the most powerful Camaro produced to the least powerful between 1967-69. For example: Camaro RS/SS was the most powerful, next would be the Z28 and so on until the least. Robert Frailing, 09-Jun-1999

To answer this one has define their terms. If it is factory produced cars, and in terms of power to weight ratio in true (not advertised) horsepower in unmodified form but in proper tune, then the following would be my personal order (without consulting the rest of the CRG):


69 COPO ZL1 aluminum 427
69 COPO L72 iron 427
67-69 SS L78 396 with L89 Aluminum heads
67-69 SS L78 396
68-69 SS L34 396
67-69 Z28 302 (this is a tough one to place relative to L34)
67-69 SS L35 396
67-69 SS L48 350
67-68 L30 327
69    LM1 350
69    L65 350
67-69 LF7 327
69    L14 307
67-69 L22 250
67-69 L26 230


---

I have a 1969 sport coupe with style trim. It is Hugger Orange with a black deluxe interior. My car was repainted and needs the striping over the wheel wells to be redone. Would these stripes have been white or black? I assume the paint should be full gloss (?). Finally, who makes an accurate black paint for the rocker panel area? Jeff Nelson, 08-Jun-1999

See the exterior color FAQ under the decoding section of the CRG site; it has your stripe color answer in the exterior paint table. The answer is white. The stripe paint has a gloss. There is a separate paint code just for the stripe paint. While these refer to lacquer formulas that aren't commonly used today, the stripe white and black (since I already looked it up I throw it in at no additional cost) paint codes for 1969 were:


               White          Black
               ------         -----
Ditzler        2058           9000
Rinshed-Mason  A-2080         A-946
DuPont         99642          98685


The rocker paint is a semi-flat paint for which we don't have a specific degree of flatness quantified. However Krylon semi-flat (oddly enough) has been noted to be an accurate match to the original.

---

I have a 1967 RS convertible. How can I tell if it has the original 327? Also it has camel-hump heads. What can you tell me about them? Keith W., 08-Jun-1999

Read the FAQs on the Decoding FAQ Page, especially those FAQs on VIN, partial VIN, and engine numbers. Normally this process begins with examining the stamp pad on the engine at the front of the passenger side head. There will be an application code and (normally) a partial VIN stamped here. The application code should match one for a 1967 327 Camaro and the assembly date prior to it should be consistent with the vehicle assembly date on the Fisher cowl tag on the firewall. The partial VIN should match the VIN. Also the casting number at the back of the block (7-digit number starting with 3) and the casting date (a letter followed by a 2 or 3 digit number) should be consistent. If you have any questions pass the numbers along and we'll help you decode them. The double hump heads are simply the higher compression, larger-valve heads used on the higher performance small-block engines. There were many types over many years, and you would need to get the casting numbers and dates off of the heads (under the valve covers) to check these out further. If original on a 1967 Camaro 327, these would indicate the L30 327/275HP engine.

---

Was it common for 1969 Z28's made in Los Angeles not to have a tachometer or console with gauges and did all factory cowl induction hoods have the "302" emblems installed? Thanks. Dave Bates, 07-Jun-1999

Tach and console with gauges were optional. Factory cowl induction hoods normally had the 302 emblems - if one escaped without it was an accident. (Note: cowl induction was introduced mid-year and was an option that most 1969 Z28s did not receive.)

---

I have a numbers matching 1969 Camaro with a 327/210HP and a 350 Turbo transmission. I know that this was the last year of the 327 and that Chevy switched to the 307 in the middle of 1969. I cannot find the production numbers of the 327 anywhere. If you could, please tell me how many 327's were produced in 1969. Thank you for your help and a responds would be appreciated. Scott Riley , 07-Jun-1999

The 1969 engine production breakdown shows 44,746 327s installed in Camaro in 1969 - they were all the LF7 2-barrel carburetor model, since the L30 327 4-barrel carburetor engine pulled in its last breath of air in Camaro at the end of the 1968 model year. By the way, our Regular Production Option list and production quantity and pricing spreadsheet is in the final stages of review prior to release of the first public draft. When this is out, if you have access to Excel compatible spreadsheet software, you'll be able to do much of your own research on similar questions.

---

I have a 1969 Z28; I am the 3rd owner. The car has 4wd [4-wheel disc brakes] and what seems to be a GM engine oil cooler (has a GM part number) can you help me with this? Edward Garelick, 02-Jun-1999

GM did make an external oil cooler as a dealer-installed service part. This cooler was not available as a regular production option (RPO) but had to be added by the dealer or customer. One of our members added one of these cooler kits about 1981 to a 1968 Camaro that was raced. Kit was bought over the counter from a local Chevy dealer. Single part number for the entirety of the kit. Kit came complete with lines, clips to hold lines, spacer/plumbing block to go above oil filter, cooler tank itself, etc. Kit was easy to install and required no holes to be drilled through the core support - used what was already there - though he doesn't remember the details. Much of this kit was probably applied to other GM vehicles using different block plates, since that was the only item in the kit specific to Chevrolet or Camaro.

---

I am asking if you could tell me what some of the characters on the tag riveted in the engine compartment might mean:


ST69 12437NOR110917BDY
TR 714 76 76 PNT
08E X66


Mark, 31-May-1999

This is straightforward - you can do it yourself at the CRG Decoding FAQ Page. I've done it for you below on this example. This is a 1969 model Camaro, built at the Norwood, OH assembly plant, with a 110917 body number (this is not the VIN). It has yellow houndstooth custom interior with Daytona Yellow exterior. Built circa 5th week of August, 1969, and it is a SS396.

---

How do I wire my HEI distributor up when I originally had points in my 1967 Camaro? The engine is out of a 1969 GMC truck. Michael Murphy, 29-May-1999

Take the power wire directly to 12 volts. Don't use the original power wire cause it has a dropping resister to take the voltage to 9 volts.

---

I have a nearly original 1969 coupe with a custom interior (712). I'm trying to restore the dash to its original configuration. At some point the car's dash lost its fake rosewood woodgrain shelf paper-like applique'. Does anybody make a reproduction of this material? I have not been able to find it anywhere. Also, is it possible that some cars were built without it? My car's dash panel has the appearance of being plated (looks like stainless) and could be a finished product. Any help you can provide will be greatly appreciated. Jeff Nelson, 26-May-1999

The woodgrain applique is applied to a piece of steel formed to fit over the dash on custom interior cars - it is easily removed. Any Camaro dealer would have used ones as they don't sell very well. The ash tray receiver and glove box door have the woodgrain applied directly and it can be difficult to find presentable used pieces. If your pieces are plated it was probably done by a previous owner. However the underlying metal is fairly bright, and may simply have the appearance of being plated.

---

My 1969 Camaro appears to have 2 VINs. The one on the firewall states the car was a V8, however, the one on the dash states that the car was a I6. Which one is more reliable? I guess someone could have switched the dash, but the original interior colors match perfectly. Thanks for your help. Also, I just wanted to confirm something. A car with monoleafs had either a I6 or the 2bbl V8, correct? Thank you for your time! Tim, 20-May-1999

See the FAQ numbers decoding section on the two different tags. The firewall tag has a different meaning. In 1969 all coupe firewall tags had a 12437 style number regardless of anything else. It is the VIN that rules. (1969 convertibles had the cowl tag style fixed at 12467.) A 1969 monoleaf rear spring car was either a L6 or a 327 or a 307. The 350ci 2BC L65 engine used multi-leaf rear springs.

---

I would like to learn more about broach marks. Joe Porter, 16-May-1999

These are machining marks made by a broaching machine, which is a type of machine tool that was used to machine the deck of the engine blocks of the time. A broaching machine applies a sharp tool in a linear motion to remove material (as opposed to a conventional milling machine that uses a rotary tool). A broaching machine leaves straight line marks in the surface, whereas a milling machine leaves rotary or swirl-like marks.

---

I have a 1969 Camaro with VIN 124379L509678 and engine # VI109FK. This is the original engine. Could you tell me what the "I" in the engine code means. I had 3 people look at it and it is definitely an "I". Bill Jackson, 15-May-1999

The letter "I "stamp was often used in place of a number 1. For your engine this is the numeral "1", to mean a date of 1109 or November 9th, 1968. (The year isn't obvious but has to be obtained from the casting date or by implication from the application code or the VIN sequence, or other such data.)

---

What is the difference between a Rally Sport and a Super Sport, and which is better to buy? Jesse Larsen, 15-May-1999

Rally Sport was largely a trim package (hidden headlights, bright metal trim, fender stripe, etc. - differed slightly from one year to next). The only performance addition was a rear axle ratio change from Jan 1967 thru the end of the 1968 model year for a specific few of the RS models. Super Sport was a performance/trim package. 295HP 350ci engine or one of three 396 engines. Better manual transmissions, specific gearing and axle ratios, stiffer springs, etc. Plus some different trim to make the SS obvious. Best is to get both - you could get the RS option on an SS, resulting in what is commonly called an SS/RS (or RS/SS).

---

In computer class we have to do a POWER POINT slide presentation and I'm doing mine on Camaros. Could you tell me why Chevy decided to make Camaro and what was in the the first one. The engine, engineers, and price. If you could email me the answer ASAP it would be greatly appreciated. My grade depends on it. Thanks, Jeremy Atwood, 06-May-1999

We can't be responsible for your grade, and we don't have time to give you the full story, but we can give you some basic information. Camaro was GM's response to the Ford Mustang after the Corvair, which was supposed to be the competition to the Mustang, proved to not have sufficient appeal to the masses. Furthermore, the Corvair subsequently went into a terminal tailspin after a poor safety report in a well-publicized but controversial book by Ralph Nader, "Unsafe At Any Speed". Camaro was named "Panther" during most of its development, but this unofficial name was changed very late. The final "Camaro" name was reportedly selected by the head of Chevrolet, Pete Estes, and was taken from a 1930s French dictionary of slang. In this dictionary "Camaro" was shown to mean "comrade" or "pal". Camaro was officially introduced to the public on 29 Sep 1966 as a 1967 model. One of its claims to fame in the first-generation (1967-69) was its ability to be customized by the buyer. A dizzying list of options was available. Both 2-door coupe and convertible. Base, Rally Sport, and Super Sport models. 1967 model engines included two different 6-cylinders, three different small-block V-8s, and two different big-block V-8s. The 302ci V-8 engine Z28 and the two 396ci V-8 engine models were mid-year additions. 1968 and 1969 models added even more options. Camaro immediately gave Mustang some stiff competition, and Chevrolet sold 220,906 units in 1967. Small assembly plants located overseas in the Philippines and Belgium even produced Camaros for Asia and Europe, and the U.S. plants in Ohio and California exported quantities to Canada and Central and South America. Base price for the 1967 6-cylinder coupe with 3-speed column shifter manual transmission was $2466.00. More in the performance end, a 302ci/290HP Z28 coupe with the RallySport option, 4-speed close-ratio transmission, positraction axle, power front disc brakes, custom and deluxe interior, and AM/FM radio started at $3622 without any other options.

---

I'm restoring the U80 rear speaker option on my 1968 Z28. The wiring specifics and location (one speaker, passenger rear) have been resolved but I've been unable to find resources providing specifics about the speaker installation. 1. The Package Tray. Is the tray the simple cardboard variety or the one (offered by many) with fabric mesh covering multi-hole speaker "vents" on both sides of the tray? 2. Was there a speaker grille? Rick's offers a "technically correct" grille (AR-11) for "coupes or convertibles" suggesting the coupe used a grille. 3. Convertibles had the grilles and speaker housings. Did the coupe have a speaker housing? 4. Was jute padding (offered by many) originally used under the tray and between the seat divider and frame? Thanks again in advance. Steve Hendrix, 22-Apr-1999

The rear package tray is smooth cardboard the same color as the interior.
There should be a speaker grille.
All rear speakers used the housing.
The jute pad is used under the tray only. There is a cardboard barrier behind the rear seat backrest. Remove the cutouts for cars with Astro Ventilation.

---

I was wondering if you could give me a little info about my father's Z/28. The cowl tag says interior code 729 (ivory houndstooth) and the exterior code is 72E (Hugger Orange, White or Parchment color top). I was wondering a few things. 1. What color should the stripes be? 2. Right now the car has white interior in it (Door panels also). Would this be the original color panels? 3. The vinyl top is not on the car now. Actually we didn't even know it was supposed to have one except for the cowl tag. What does it take to install it? What color is it supposed to be? (I've seen it called both parchment and white.) Nathan G. Bubar, 14-Apr-1999

In the same order you asked them:

The white is ivory and yes, the door panels are ivory.
You'll first need the vinyl top stainless trim pieces that frame the edges. We're assuming these were removed and you don't currently have these. There were originally spot welded studs in the sheet metal that these fastened on to - which have no doubt been ground down on your car if the vinyl roof was originally installed at the factory. If there are no signs that a vinyl roof was ever installed, and you have any possibility of tracing owner history, you might want to double-check with an early owner to verify that is was actually installed from the factory. It isn't unknown (rare, but not unknown) for a vinyl roof to be shown on the tag but not actually installed (and vice versa). Chevrolet called it "parchment". It isn't as pure a white as the white convertible top, but it is a shade of white.

---

A question regarding assembly and painting of 1968 Camaro bodies - I understand that the front end clip (apparently known by workers as the "dog house"?) was assembled to some degree before it was painted. Do you have any information to share as to how and when the painting was done? Which areas should be just in primer? Tom Bogan, 11-Apr-1999

You should know that this sparked another round of extensive and lively debate on this ongoing CRG topic related to factory practices - one reason why there is a longer than usual period between your answer and our response. Here is what we agreed to say for the moment, while research continues. We hope you find this useful. We know from factory photos that an assembled front end sheet metal section (minus hood) was installed as a unit onto the body and front sub-frame. From what we have seen from disassembled original cars and other factory photos, we believe that the individual sheet metal parts were primed and painted before sub-assembly, and that body painting was performed at Fisher body with the doors and deck lid already installed. We have noted different color primers on the front-end sheet metal but we have not yet verified a pattern of use. Based on a first-generation Firebird factory photo, as well as general practice in other assembly plants, we believe that the first-generation Camaro front end sheet metal was painted with the body but in a disassembled state - loose in holding fixtures near the body. This method seems to have resulted in overspray on some of the backside surfaces, but we have not established a typical pattern for this either. Many of the panels had broad coverage on the back, but again this does not appear to have been purposely done but an artifact of the panel position relative to other panels during the painting process. We also know that some stripes (e.g., D91) were at least partially pre-painted (for example, across the header panel - since the factory stripe wraps around the ends of the panel). Other stripes were done differently - some completely painted and others a combination of paint and vinyl tape. There is still much to be learned about the assembly sequences, as well as differences between factories and model years, and we are actively studying this area.

---

My question is in regard to the top of the dash panel. I have a black interior 1968 Camaro. The black paint is a very strange flatness. I've been told it is a "suede" finish. Is there a reasonable way to reproduce this finish? Was this finish used in other areas (rear package shelf perimeter?) Tom Bogan, 11-Apr-1999

Tom - we don't have a full answer for you on this one yet, but here's where we are with it, mostly from Bill Glowacki:

Suede was a type of wrinkle-finish used on the dash top and on the rear window trim. It's an additive mixed with regular paint. I still have both black and 1967 blue custom suede in aerosols. Used them on the ZL-1 and 1967 Z/28 and it looked great. It is lacquer, do not know if this can be done with enamel. Any other finish on the dash top looks wrong. I used to never have any problem getting this stuff mixed into aerosols. The firm that did it only does commercial paint now. A chain of auto paint shops, Finishmasters, did one in blue for a friends' 1969 Chevelle SS some years ago. The owner of our current project tried to get some in black last week from them. They had no idea what he was talking about. Maybe a paint shop could do aerosols for you. GM still used it on Trans-Am steering wheel spokes until 1992.

So we don't have a good immediate source for it. We'll be looking. If anyone else knows of a source let us know and we'll list it here. To help stimulate things, here are excerpts from the the Rinshed-Mason (one of the three OEM paint suppliers) paint manual. The page is titled "1969 Chevrolet, Corvette, Chevelle, Chevy II, Camaro, Corvair interior color combinations."

NOTE-Alpha-Cryl formulae containing No. 849 Suede Concentrate produce material of approximately a zero gloss as required. Upper instrument panel, Radio Auxiliary Speaker Grille, Rear Window Defogger Grille, Back Window Lower Garnish.

Farther down the page is another heading:

Lower Instrument Panel. NOTE-R-M Tintometer formulae as listed produce standard gloss colors. R-M No. 850 Universal Flatting Concentrate should be added to achieve the desired degree of gloss.

The sheet lists all of the trim combo numbers along with the Fisher paint number. Hope this helps - and helps stimulate the identification of some modern sources for this.

---

I have a book that shows option D-80 as a rear spoiler for the'67. I see that your info indicates that no spoilers were available in '67. I recently purchased a '67 RS/SS 350 and would like to share pictures with you when I get them. Mark T Seibel, 10-Apr-1999

Thanks for your interest Mark. We'd be glad to see your pictures. Yes, there is some documentation that shows the D80 spoiler as available in 1967, all based on the factory assembly manual and the fact that they were used in the Trans-Am racing - supplied to select teams by the factory. However the factory assembly manual and related documentation was a ruse by Chevrolet to allow a non-factory item to be used by the racing teams by virtue of it being a "production" part. The spoiler wasn't actually a factory item until the 1968 model year. Something similar was done in 1968 with the 4-wheel disc brakes - they appear in the 1968 assembly manual (and were available over the counter to racing teams) but weren't actually installed by the factory until 1969.

---

I'm giving the trunk the once over and the wiring from the plastic tubing (convolute?) to the side markers and tail lamp housings was wrapped with a woven adhesive which promptly fell apart in my hands. Are these short stretch of wires from the tubing supposed to be wrapped and if so, should I use the same non-adhesive wrap used on the other harnesses? Also: My 1968 Z28 has Firestone Wide Oval tires. Though correct for the time period, would these be considered "incorrect" in the judging arena since, according to Jerry McNeish, all 1968 Z28s left the factory with Goodyear Wide tread GTs? Steve Hendrix, 31-Mar-1999

The woven tape is correct - not the non-adhesive wrap. On the tires, while judging depends on the specific judging rules of the event in which you are entered, we expect a strictly judged show would judge these as "incorrect". A Firestone Wide Oval is not an originally installed tire for a Z28 that we are aware of. Since reproductions of the generally acknowledged "correct" tire are available, you would likely be docked points in the judging arena. More leeway is often allowed in the 1967 Z28 judging because the exact tire size is not currently reproduced.

---

(Forwarded to CRG from the CUS site)

I have a 1968 RS/SS which is Matador Red with a white Super Sport strip. I would like to know the correct ID of the white strip? Also, the car is a big block, the taillight panel is black, what is the correct black for this? Is it a standard color or a special blend? Bud Scolastico, 17-Mar-1999

There were two 1968 SS stripe types, and the type used depends on when the car was built. The D91 "bumblebee" nose band stripe was used until production effective 2 Jan 1968, when it was replaced with the new SS stripe. The new SS stripe began across the nose similar to the D91 bumblebee but instead of continuing down to the bumper and stopping, it turned aft just below the engine size emblem and ran down each side, stopping short of the aft end of the doors. This was the same stripe offered as the D90 option that was also made available at the same time to non-SS, non-Z28 cars. The big-block tailpan is semi-gloss black. The same color as the other factory black but with a cut of flattener. We haven't identified a specific formulae for the amount of flattener originally used - but the factory used 30% gloss for a number of items, and Krylon semi-flat is an excellent match for the factory 30%-gloss, semi-flat, black. The original paint manufacturer codes for black exterior, interior (30% gloss), and striping follow. Rinshed Mason A-946 and DuPont 88 used the same base formula for all three applications; flattener was added by the painter to obtain the desired flat or gloss. Ditzler used three different codes: 9300 (exterior), 9266 (interior), and 9000 (stripe); apparently Ditzler pre-mixed the paint to a specified flatness.

---

I question the unconditional publishing of some of the information which you may research and uncover. Since there is currently a significant premium placed on original cars with rare and unique options, the potential exists for counterfeiters to utilize the information you distribute to defraud potential buyers. As a collector of 1968 L-34/L-35/L-78's, I have come to recognize many of the unique changes that were done to these cars at the factory. It is somewhat easy to discern a car which is not what it is represented as if one or more of these modifications is missing. Publishing these modifications will only make the task of locating and discerning a truly original car that much more difficult, and dilute the value of our actual original cars. Name Withheld by CRG, 10-Mar-1999
(Note: we withheld the questioner's name since it was submitted via email prior to creation of this column.)

OK, let's get this one out of the way. It might as well be the very first one. There have always been fakes; from long before CRG existed. And every time someone has in the past published information that was only previously known by insiders, there have been similar complaints about cars becoming easier to fake. We don't want to minimize your concerns. However... It is possible for a knowledgeable person with sufficient means to fake almost anything. We are aware of some good fakes, as well as cars that are touted as original but have had some undocumented replacements made. However, except for the most unusual of cars, it now generally costs more to create a truly excellent fake than can be returned via increase in value from the effort. Publishing information that makes creation of good fakes cost-prohibitive is a service rather than harm. And the best defense against poorly done fakes has the same answer; for the average buyer to be armed with good information. (If you are not yourself extremely knowledgeable, we suggest you consult a local expert before completing the purchase of a high-priced classic car.) We don't see this process diluting values - rather, the contrary. You also haven't presented the opposite side of the argument, which we believe vastly outweighs your concerns. The industry is already abusive. We have seen horrible stories from people that have come to us for basic decoding information, only for them to find out that they've been defrauded by someone selling them a 396 that is really a small-block non-SS car, or a Z28 that is really a L6 car. Or they find that they've got a salvage chopped and welded car, or a Camaro with a Chevy II VIN. Not to mention the people that have sold real pace cars or L78 cars at low prices without realizing what they had or its value. While no amount of available information will ever eliminate this problem, many of these people bought something that wasn't what they expected, in large part, due to lack of easily available, accurate information. Much of the information they need is the information we work to publish. That said, elimination of fraud is not our primary aim. Our fundamental objective is to publish data to help honest people that simply want to perform an accurate restoration, and need the data to support their hobby. We can't stop evil people from using our data for their own ends - but we do believe it will backfire on them more often than not.